3 Misconceptions About Micro Weddings and Why Couples are Choosing to Have Them
With so many changes happening with weddings right now, one of the most common terms we're hearing is a micro wedding. Instead having a ceremony now and a party later, a micro wedding is an intimate celebration of 2-40 people that includes all of the same formalities of a wedding with a larger guest list: your ceremony, a cocktail "hour," some sort of announcement as newlyweds, your first dance, parent dances, dinner, and any other formalities.
The only difference between a micro wedding and a traditional wedding is the number of wedding guests. And while a micro wedding has a completely different vibe than what you may have originally planned, it can be just the thing to make your wedding dreams still happen in a safe and creative way.
Here are the top 3 misconceptions about micro weddings:
Misconception #1:
A small wedding isn't a celebration
"Micro weddings should not become synonymous for a basic wedding experience. It's an opportunity to elevate the guest experience through culinary and design. A smaller guest count affords the opportunity for a more refined dining experience such as table-side wine service, top shelf liquor, plated hors d'oeuvres, and elegantly paired desserts," says Tamuel Cowart of Luxmore Grande Estate.  "And don't get me started on the décor… tablescapes filled with upgraded stemware and china is a proven "wow" factor!"
We couldn't agree more! You can still have all of the formalities you dreamed of including cake cutting, dinner, and even dancing! Some of the most memorable and celebratory events we have DJed were super intimate with less than 30 people. And by having a smaller wedding with fewer guests, you can pay closer attention to details and focus on the things that matter most. You can take the time to think through those special touches that will make your intimate wedding an experience for your guests, where you may not have had the time, resources, or budget to add those things before.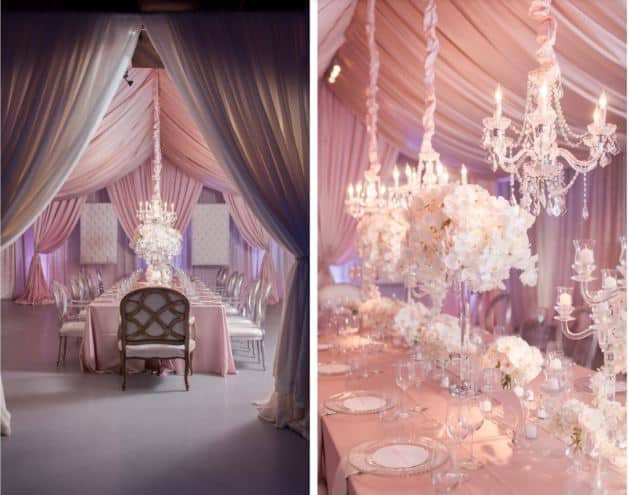 Another benefit of a micro-wedding is that you will have more time to spend with each of your guests, instead of shuffling around a huge room to make sure you were able to say hi to your mom's coworker whom you've met once at that random holiday party. Because your guest list is smaller, each guest will know that they are dear to you and your new spouse because you'll have the time to actually celebrate with them.
Taylor Bianco from Taylor Rae Events shares "A smaller wedding still has all of the same elements of a larger wedding and a lower guest count doesn't mean you have to cut back on any formalities, style, or design. It's still your special day and can be everything you have ever dreamed of."
Misconception #2:
I won't get to have my DREAM wedding moments with a smaller wedding
This is where we really focus on going the extra mile to make your moments even more special. We may not be able to pack everyone together on a dance floor the way we are used to doing, so we have to get creative.
Melanie Paige  with Melanie Paige Events + Design says, "Who says you can't have your dream wedding moments when you have a small wedding? The great thing about your wedding day (even when it is a micro wedding) is that you get to make all of the rules! You get to decide what moments you want to have and what moments you want to leave out. I happen to not only be a wedding planner, but also a bride that is affected by COVID and had to change my wedding from a big wedding to a micro wedding. The moments that were important to me where the ceremony, first dance, parent dances and private last dance. Therefore, I told my own wedding coordinator that I would like to do all of those and she is making it happen. Just because your wedding is now smaller than what it may have been originally pre-COVID, doesn't mean that you can't have those moments. This is still YOUR wedding day and YOU can still make all of the calls on what you want to do and what moments you want to have 🙂 " 
We have a ton of ideas using music to create special memories, like taking your first dance to the next level with a cloud effect, or adding in more slow dances to keep distance on the dance floor. Music is important now more than ever, and we'll create a curated set list of music to use from the introductions, to the special dances, to all of your favorite songs while you enjoy dinner.
"We are seeing that a good amount of brides and grooms who had big weddings planned this past spring […] are rescheduling these weddings for late summer or the fall, and have scaled things back 

because all of the friends and family they hoped to have at their wedding can't attend now for several reasons. Because the guests list has been reduced (in some cases by more than 1/2) we are seeing brides and grooms with a guests list under 50 guests splurge a little more on things they may not have been able to afford if their originally planned big wedding had happened." Says Darrin and Cyndi Shifrel from Orlando Wedding and Party Rentals
We can also partner with your photographer to make sure they are able to capture each detail of your wedding, so that your memories can be shared with future generations. A laugh during dinner, a DJ "point" on the dance floor when we play the perfect song, a grand exit with sparklers captured at all the right angles, and your grandparents having fun with the props in the photo booth. If you can dream it up, we can help make it come to life!
Misconception #3:
A smaller guest list means less work, so I'll spend less and I don't need a DJ or other vendors

You might think that because you only have 20 people coming, that you don't need a sound system anymore, and you really don't need a DJ/MC to make announcements or handle the music, you can just put on a playlist and be done. You also may think that because the festivities are now in your grandparents' backyard, that it's a lot easier than a regular venue for your vendors. 
While as DJs, we may not need a subwoofer to feel the boom on the dance floor, not much changes in what we do as Wedding DJs. 
Darrin and Cyndi Shifrel with Orlando Wedding and Party Rentals says, "Something people do not see or understand is all the work that goes on behind the scenes and all the time it takes a vendor to bring an event to life. If anything, it takes more time and more work than ever. […] An event that was going to be in a ballroom or hall of some sort that is now in the backyard will now need a tent, tables, and chairs that a rental company may not have been setting up originally. This is a good thing for the vendor, but it's more work, not less."
Orchestrate and Plan Details
With Our DJ Rocks, as you're choosing your special songs leading up the wedding day, you'll use the Our DJ Rocks online planning system. This tool helps keep us organized and gives you a space to provide all the details for your wedding, like special songs, any announcements, to little things like who is toasting and if there's a blessing.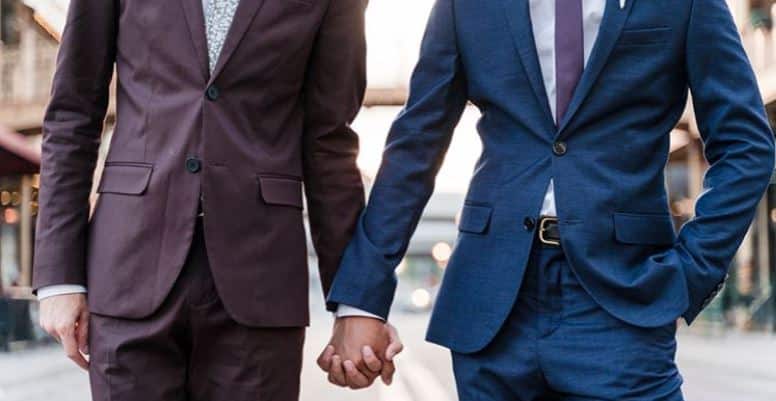 Once we have all of those details, we will create a day-of wedding timeline (and coordinate it with your other wedding vendors) so we have absolutely everything we need to orchestrate things from start to finish. 
With a mirco wedding, we'll still have a final planning meeting so that we can arrive with that customized timeline of the day to ensure your guests know what's going on, that your caterer is on the same page to keep the food hot and ready, and that your photographer gets all the photos that you both will want to have captured.
These are all choices you make and things we do no matter if your wedding is in your backyard, at a venue, with 5 people or with 500 people. The same level of care and planning will go into the services we provide. Without someone like your planner and DJ taking charge of the day, your micro wedding may not be as smooth as you wanted. We'd hate to see a close family member, or even you, not able to enjoy themselves because they're worried that people are doing what they need to do at the right times. We take all of that stress off of you and your family and let you be present and enjoy the moments that we help create.
Ceremony Music and Sound
We'll be there about 1-2 hours prior to your ceremony to set up a small, unobtrusive sound system. As your closest friends and family start to arrive, we'll have light music to fill the air to set the mood for your upcoming nuptials.
We place a wireless lapel mic on the officiant, so all of your guests can hear the ceremony. The processionals then begin, with a song for any honored guests to be seated, and of course a special song for your walk down the aisle! Once you are pronounced a married couple, we play the celebratory exit song. We can also work with an AV company to coordinate live streaming!
Following the ceremony, the music continues with a transition into cocktails while you take photos, providing an ambiance as your guests enjoy refreshments and hors d'oeuvres. You can even still safely have a photo booth start during this time so your guests are entertained the whole night!

We act as the voice of your intimate micro wedding, and we keep your guests informed of what events are taking place, and where their attention should be. We work with your vendors to be sure that none of us miss a step. There may even be times where we are the only wedding professional there, and we can help ensure YOU aren't the one worrying about what's next and coordinating it while trying to be in the moment.
Dinner Reception & Celebration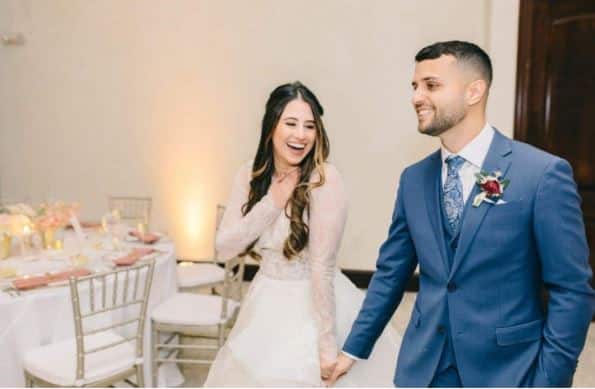 Depending on how far the dinner and celebration area is from the ceremony location, we may have a second small sound system setup. If we do, we'll make sure this is set up and ready to go prior to the ceremony even happening, that way there is no breaking down or moving equipment during your festivities – that just looks bad!
Once you're done with photos, we'll prepare you and any guests of honor for introductions. Whether you envision them as very high energy with you two in the spotlight, a little more subdued and formal, or somewhere in between, we gotchu! Our style is to truly incorporate your music tastes. This is your day, not ours. We encourage you to provide us with a list of your favorites, and your list of least favorites too! 
Since you only have your closest friends and family – we can provide a guest request link ahead of time so you can ask them, "what is your go-to dance song?" We can take those requests and play them throughout the night. 
We'll also make sure to have a microphone for any toasts and speeches. 
The most important thing to think about when doing a micro wedding is having smooth transitions and the utmost professionalism. With fewer guests, every detail is more likely to be noticed and appreciated. As your DJ and MC, we will ensure everything flows seamlessly from cocktail to reception with getting guests seated or moved for more festivities. We'll coordinate the formalities and make announcements, and of course play your favorite songs.
"A smaller wedding may mean less centerpieces from your florist or chairs from your rental company, but you will still need the same number of vendors as you would with a larger wedding. Keep in mind that you will still need a venue, photographer, DJ, and coordinator or planner to help you have an enjoyable and stress-free wedding day. Some vendors may have standard fees for delivery, labor, or design work. You definitely don't have to sacrifice the style of your wedding even if you have less guests than you originally thought you might. Your cost per guest for food, floral, or rentals might be slightly less than it would have been with a larger guest count, but you can still incorporate stunning design elements or interactive components that provide you with your dream wedding experience," Says Taylor Bianco with Taylor Rae Events
We've also seen the table seating arrangements that are now adjusted with extra space between each table. Then when it comes time to dance, it happens in between the tables instead of on a dance floor! This is a great way to social distance and STILL have dancing. If you don't think your smaller guest list will want to break out their best moves, there are other options for entertainment as well. Besides having a photo booth available throughout your wedding, add in some extras like wedding Bingo, corn hole, or other lawn games like Giant Jenga or Connect Four. That way everyone can still interact with each other and have a memorable time!
No matter if there are 10 guests or 200 guests, we will help you refine all the details that will help us create moments naturally. We still treat every couple's big day as if it's our only one, because we know how unique your wedding will be to you. You can learn more about some ideas or innovations about the future of weddings from Wedding Pro here. 
"So while there very well could be less money spent on some events, there will still be many who take advantage of the current situation to spend more money on certain services and luxuries they would not have originally intended to spend if things in the world had stayed status quo." Darrin and Cyndi Shifrel add.
Our goal is for you and your new spouse to have an amazing time celebrating with your closest loved ones, letting us and all the professionals help you create the memories, and making your intimate experience one you'll never forget.