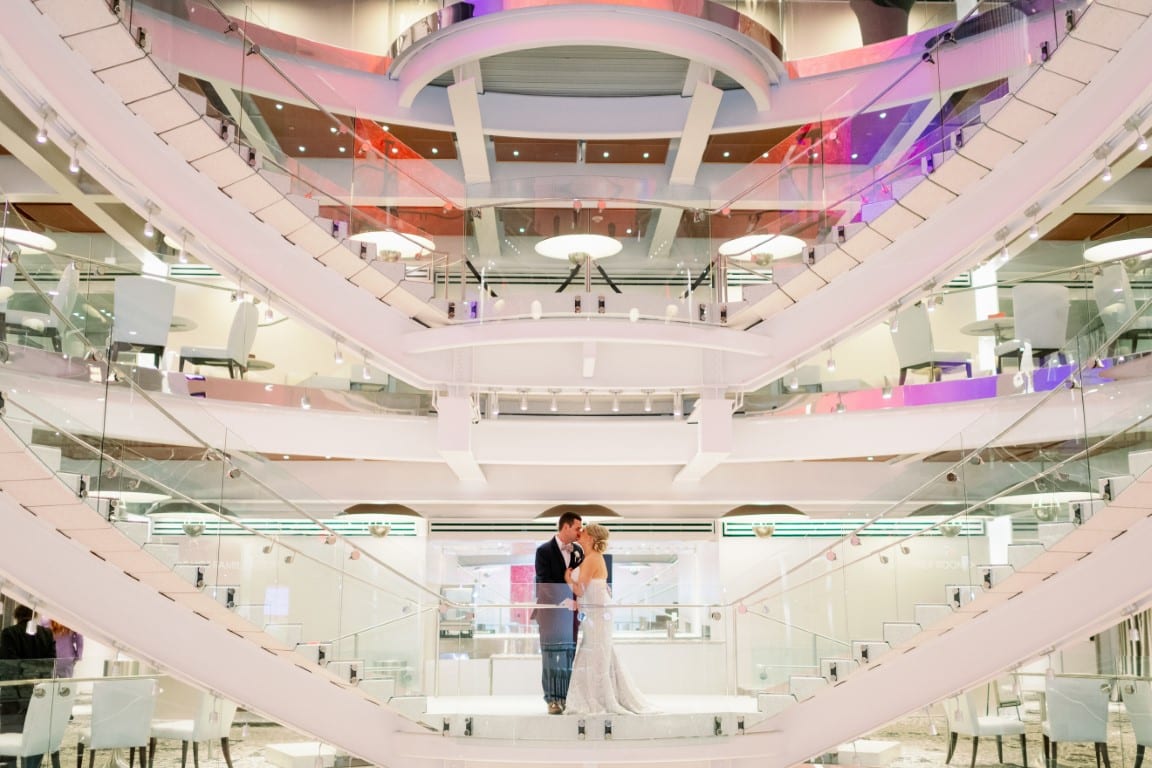 Ashley + Chris Wedding
Palindrome / n / a word, phrase, or sequence that reads the same backward as forward. 
February 22, 2020 is one of those palindromes (02/22/20) and Ashley + Chris were lucky enough to have their wedding on this day! The couple also chose this date in remembrance of the bride's grandfather, who passed on that date 15 years prior and knew that he would be smiling down and enjoying the day with them (cue the tears)! 
They were married at the St. John's Catholic Church in downtown Orlando and then had their cocktail hour and reception at the Dr. Phillips Center for the Performing Arts.  
We LOVE going to this venue because of the stunning floor-to-ceiling windows and the opportunity to incorporate our uplights…which Ashley + Chris chose to do. They chose champagne uplights for the beginning of the reception, changed them to purple for formal dances, then once the party began, we were able to provide them with our party mode uplights. If you haven't seen them, our party lights change color to the beat of the music and make your reception space look like the most fun dance party!
The newlyweds shared their first dance together as husband and wife to Give It All We Got by George Strait and then the bride shared in two other dances with her dad and her son to Just Fishin' by Trace Adkins and Never Grow Up by Taylor Swift, respectively. Some of their Must Plays included different types of music from Teach Me How to Dougie to Sexy and I Know It to I Wanna Dance With Somebody.  
Ashley + Chris, we had SO much fun being a part of your special day and totally became #smittenforjones! We want to wish you both a happily ever after and CONGRATULATIONS!
Thank you to all our amazing vendor friends who made this day possible:
Venue – Dr. Phillips Center for the Performing Arts
Planner – Nicole Squared Events
Photographer – Kristen Weaver Photography
Videographer – Love and Lustre Films
Florist – Greenery Productions
Lighting – Our DJ Rocks and Junction 88
Rentals – Gala Rentals
Cake – Sweet Miss V's
Photo Booth – Photobooth Rocks
HMUA – LeJeune Artistry
Ready To Rock Your Event?