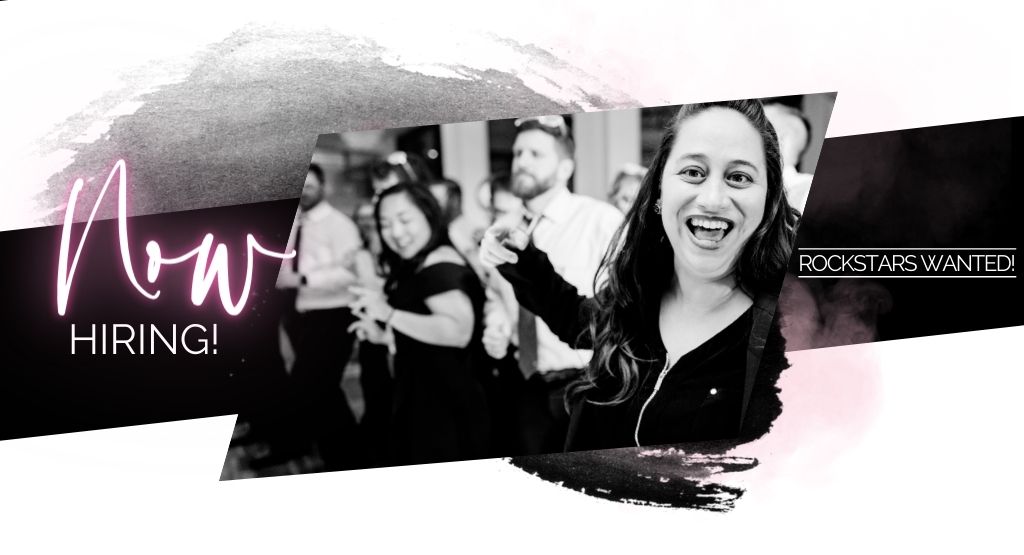 Now Hiring: DJs + Photobooth Attendants
We hire based on attitude, not experience!

Come party with us! Do you love music, weddings and events? We are looking for authentic humans with personality, charisma, and drive. We can partner with DJs with experience or train you from the ground up.
STOP! do NOT just APPLY FOR THIS JOB:
If you're just looking for just "a job," then this isn't the position for you.. This job is not right for everyone. The pace is fast, and it requires a high level of effort and energy.
We have a make-it-happen mentality to go above and beyond for our clients. We are small and mighty.
We're not just a DJ company. We are an industry-leading entertainment group that cares passionately for 400-900 events annually, so there are plenty of opportunities to create moments for our clients.
Our mission is to love what we do, lead by example, and exceed our client expectations through passion and rapport in DJ services and photo booth rentals within the event industry.
We look for individuals who fit VERY closely with both our core values and our mission and vision.
We want people that are passionate, positive, and hungry. People who want to learn and grow. Those individuals who want to infuse positive energy and are always a team player.
Most people won't be a good fit for this type of work, and that's ok. But if you think you are the exception, keep reading. 
For a small handful of people, this will be an amazing part of your life and has the power to connect you with so many opportunities locally and nationally within the event industry.
The Person Most Fit To Rock with Us!
We are looking for part-time and seasonal team members who fit our culture and core values, who want something exciting and rewarding on the weekends to offset their steady day jobs.
The person who will thrive here:
Has

Integrity

Has charisma
Works and communicates effectively with others
Has a positive outlook on life and a demonstrated ability go above and beyond
Is Independent, reliable, and dependable
Is punctual and has an excellent grasp of time management
Thrives in a fast paced environment
Works extremely well and has fun under pressure
Can work alone or as part of a team to get ish done
Is a problem solver
LOVES music, events, and weddings
Wants to make money
We believe that music has a power that is beyond our control. We believe in a life that inspires us to laugh and feel emotions. We were meant to celebrate love and milestones through music and mustaches. We live for unplanned moments.
And sparkly shoes.
01
We Value Integrity + Gratitude
02
We Value Positive Attitudes + Charisma
03
We Value Unshakeable Commitment