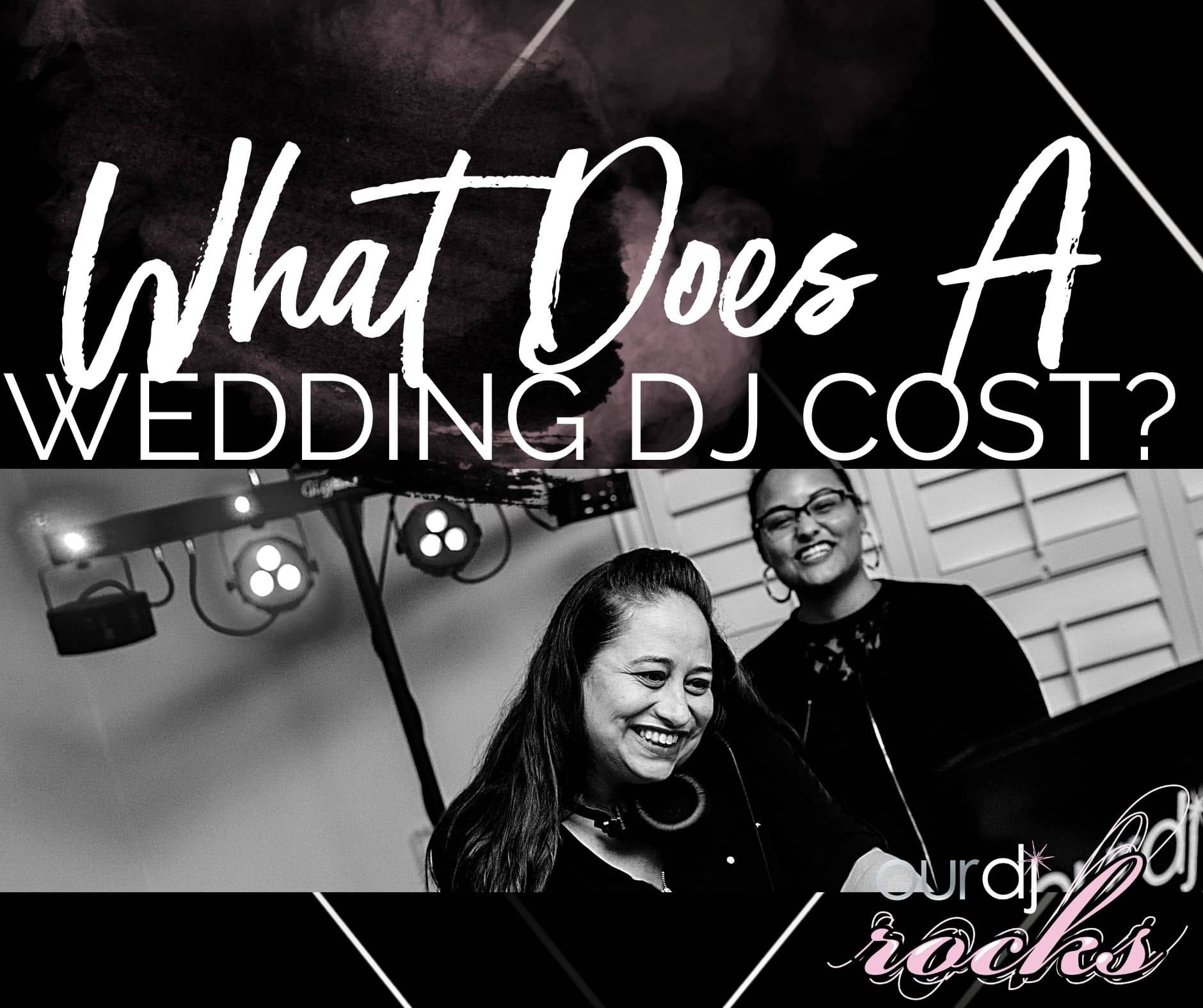 What Does a Wedding DJ Cost?
If you're in the midst of wedding planning, you've probably noticed that prices are all over the map. You don't want to blow your budget, but neither do you want to ruin your wedding by hiring the cheapest professional DJ.
There are a TON of wedding DJs in the Orlando area alone; how do you know which ones are the best value? How much does a wedding DJ cost?
The average cost of a wedding DJ is around $1,000, but this doesn't reflect the wide range of prices you're likely to see while planning your event. In reality, you'll see DJ companies charging anywhere from $800 up to $4,500.
The aim of this DJ cost guide is to help you discover the type of services you can expect from wedding DJs at varying price points and how to find a DJ that you feel comfortable with on your big day.
Wedding DJ Pricing Guide
You can find venues, florists, hair stylists, and wedding DJs in every price range. But does that mean one is as good as the other?
Since 2010, Our DJ Rocks has been highly involved in Central Florida's event industry. We've seen it all!
Here's what various wedding DJ prices likely indicate. (Keep in mind that these prices are based on having a Saturday wedding. Many DJ companies, like Our DJ Rocks, offer lower prices for off-peak days.)
Budget-Friendly DJ
Expect to Pay: Under $1000
Sort >> Price: Low to High…. Sound familiar?
While this might be fine when you're buying a toothbrush, it may not be the best idea for something as crucial to your wedding as the DJ. After all, so much of your wedding day centers around the music.
Of course, if your professional DJ friend is only charging you $500 as a favor to you, that's a different story. But wedding DJs in this price range are typically just starting out in the business. They're probably doing this part-time as a side gig and may not even have a business license or adequate insurance.
Mid-Range DJ
Expect to Pay: $1100-$1500
This is the national average cost for a wedding DJ.
At this bracket, they're probably a little more experienced, but still DJ-ing part-time. They may be more prone to making mistakes because they didn't have time to prepare for your wedding. (After all, most probably have another full-time job.)
You might still find a gem in this group, however. We all start somewhere. Make sure you do your research and vet them thoroughly before signing a contract.
Professional Full-Time DJ
Expect To Pay: $1,500-$4,500
Professional, full-time DJs with a full range of services are making this kind of money for a reason.
They are talented, experienced, and 100% committed to making sure the weddings they do are as close to perfection as possible. They typically spend 10-30 hours of prep time for a 5-hour wedding…THAT'S dedication! They're available for questions, have plenty of song suggestions, and can MC like a boss.
They're also going to be fully licensed and carry the type of insurance that most venues require.
Let the Buyer Beware!
Bear in mind that your wedding DJ's prices will change if you're getting additional services like lighting packages or a photo booth (which you should totally consider! Our new Light Tunnel is a showstopper!). Once you've gathered multiple quotes, make sure you compare the DJs' services as well as their prices. This helps you compare apples to apples so you get the best value overall. You'll also be able to easily identify opportunities to save money (like going without the laser show) without settling for a sub-par DJ.
It's also worth pointing out that the prices listed above are just guidelines. There are poor-quality, amateur DJs charging way more than they should and hidden gems who offer rock-bottom prices (the former is more common than the latter!).
This is why it's so important to interview potential DJs to get a feel of whether they will be the right fit for you.
You Deserve An "Above Average" Wedding
For the most part, the average wedding DJ costs about what they're worth. But do you really want an "average" DJ?
There's a lot that goes into a professional DJ experience that the beginners and hobbyists don't do. For example…

1. Preparation
A truly professional wedding DJ will spend hours of preparation for your wedding day. (This is why a professional wedding DJ costs as much as they do!)
They'll interview you and your spouse-to-be to get a feel for your personalities and music tastes. They'll create a timeline for the evening so everything stays on-schedule. Personally, we also like to spend a little time researching music the couple's parents' like so we can include some classic throwbacks!
Our couples also have access to the Our DJ Rocks online planning system. This online portal keeps track of all your "must-play," "do not play," and ceremony songs, as well as any special announcements or toasts.
2. Investment
A wedding DJ who takes their job seriously will invest time and money back into their business.
They upgrade their equipment and practice how to use it. They learn new ways of mixing music. They work toward building their career and they have the accolades to show for it.
3. Commitment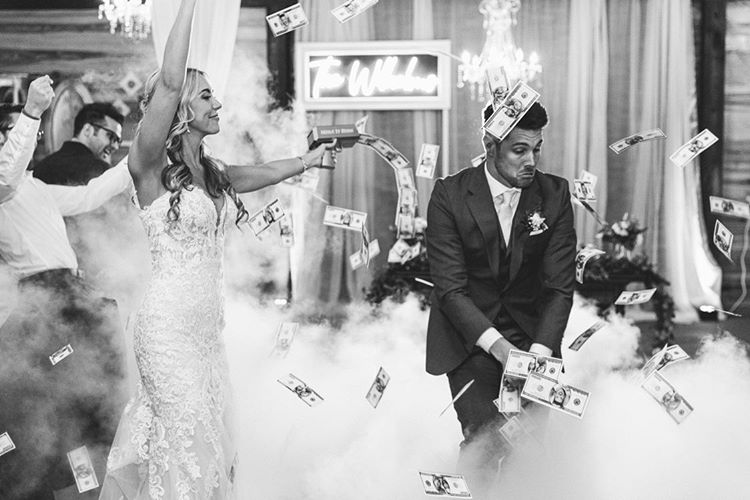 When you hire a part-time DJ, you're sharing their time with any other work obligations they may have. And let's face it: if they have to choose between you or the company that signs their paycheck, who do you think they're going to choose?
A wedding DJ should be 100% present on the day of your wedding.
For us, this means that your event is the only thing on our schedule that day. No sales appointments, no other events, just you. This allows us to get there early, set up the equipment, and triple-check all the details so your event goes off without a hitch.

Price vs. Value
Setting (and sticking to) a wedding budget is super important. After all, you don't want to start your marriage in debt. But while it's good to save money when and where you can, it's also important to remember that the lowest price does not equal the best value.
If you only ask yourself "What does a wedding DJ cost?" you'll only be getting half the picture. You also need to consider what your DJ can do for you.
At Our DJ Rocks, we have an entire team of DJs who are not only extremely talented, they are fun, professional, and LOVE to create moments that make your wedding day utterly magical.
Ready to talk? Great! We'd love to hear from you!
Ready To Rock Your Event?