How to Have a Disney-Themed Wedding (Without a Disney Budget)
Here in Orlando, we're no strangers to Disney magic.
And when you think about it, a Disney-themed wedding makes so much sense. What better way to celebrate your own love story than with a nod to some of the greatest love stories of all time? Glass slippers, a castle in the background, your handsome prince…but with one phone call to the Fairy Tale Weddings department, that spell is broken.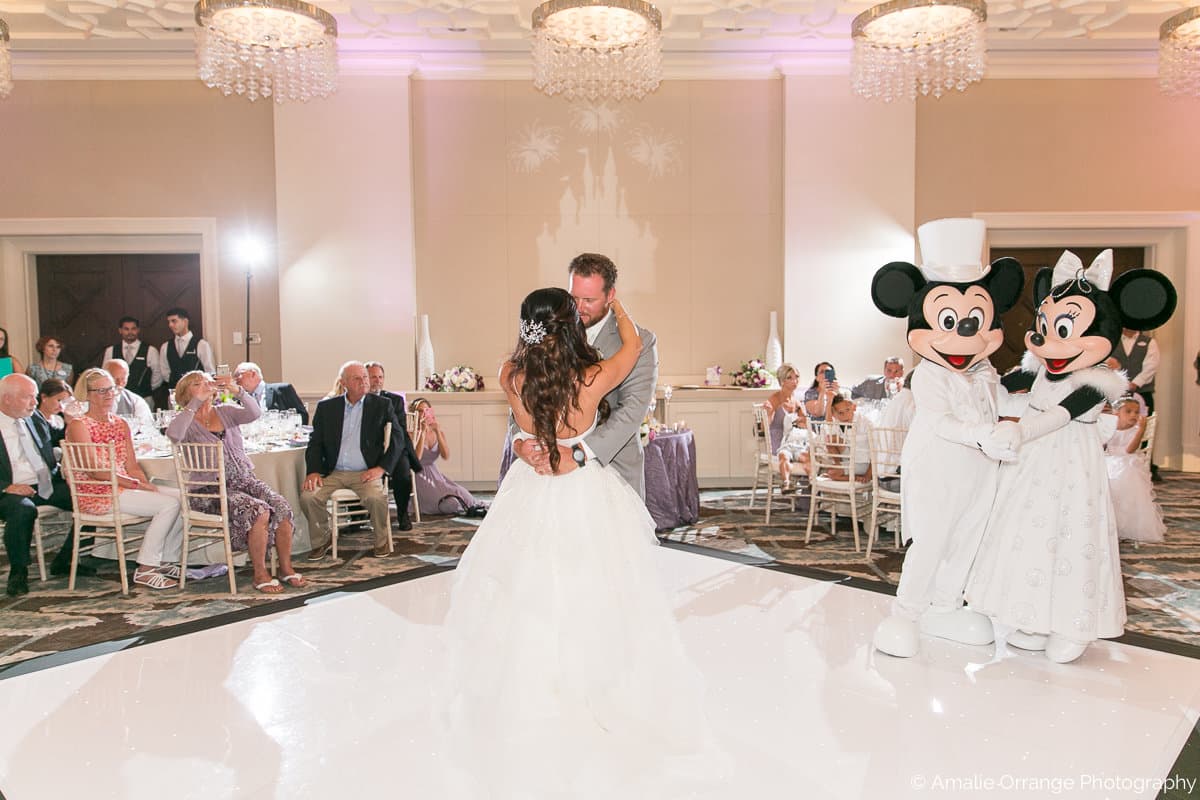 Wedding packages at Disney range anywhere from $3,500 (for a mere 4 guests!) and only go up from there. That magical wedding you dreamed of for 100 of your closest friends and family? You're looking at upwards of $25,000. (Not including invitations, rings, dress, or any of those other magical details.)
Well, fear not! If you and your intended are full-fledged "Disnerds," you can still have a Disney-themed wedding on a budget. All it takes is faith and trust (plus a little bit of pixie dust).
Invitations
Whether your theme is general Disney or a specific film, let your invitations set the theme right from the start.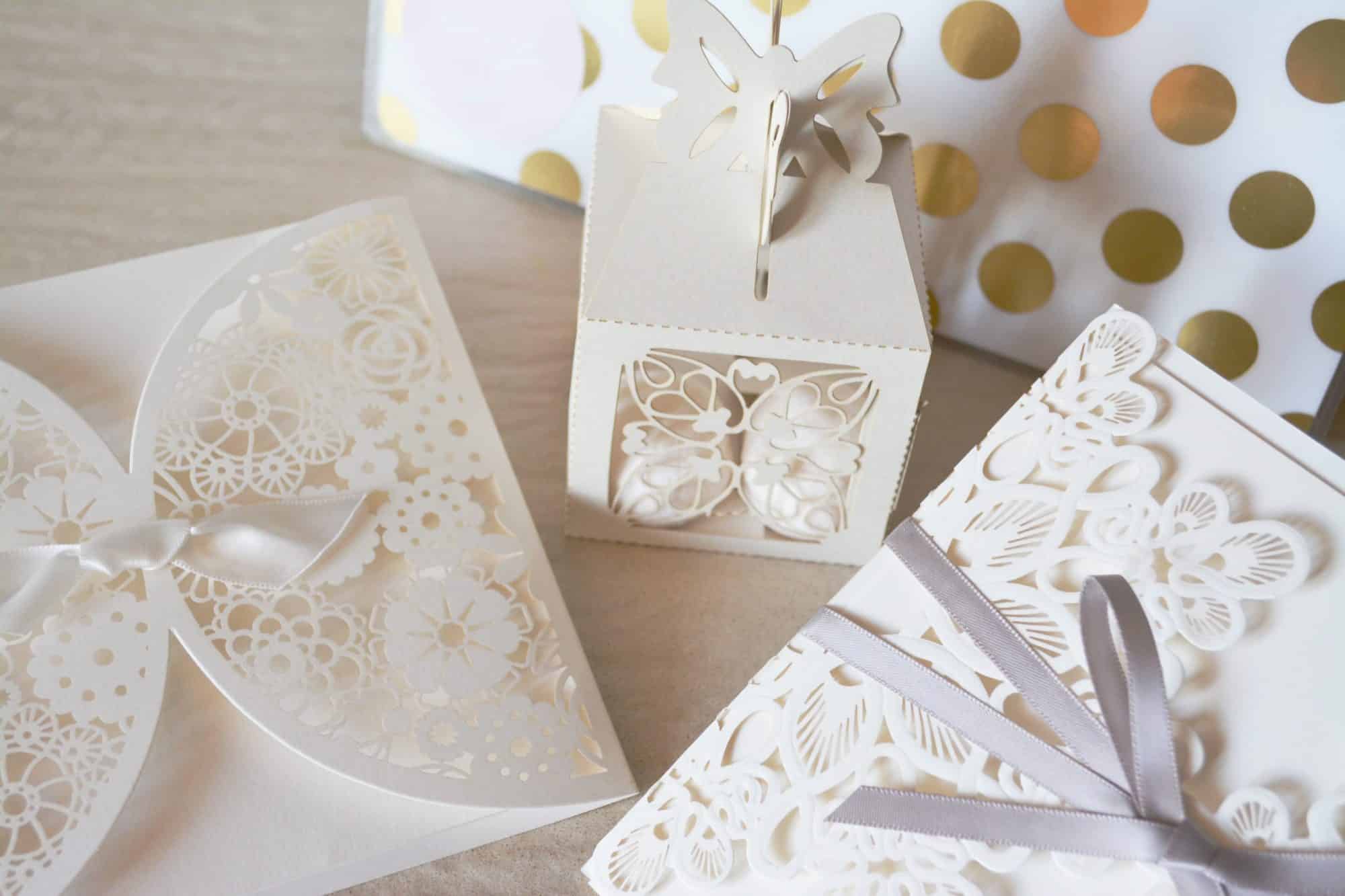 Sites like Zazzle and Etsy have plenty of adorable designs for any Disney-themed wedding, but any invitation style will do if you pick the right wording. Set the tone of your event by promising guests a "magical evening" celebrating your "happily ever after."
Venue
Getting married in front of Cinderella's castle will cost you a pretty penny. So swap the location for one that's a little easier on the purse strings.
Insider secret: there are plenty of wedding venues on Disney property that aren't actually owned by Disney. You'll save a lot of money but still get the Disney theme across.
Or pick a wedding venue that gives a subtle nod to your Disney theme without being too on-the-nose. A Little Mermaid-themed wedding in an aquarium. A Beauty and the Beast wedding in a library. A Princess and the Frog wedding at a Cajun restaurant. The possibilities are endless!
Wardrobe
Carry the Disney theme into your wardrobe choices by starting with the perfect color scheme: pink and purple for Rapunzel, green and pale yellow for Tiana, or light blue and silver for Cinderella. Use these colors for the bridesmaids' dresses (or your own, if you're feeling brave!) and add coordinating pops of color into the bouquets.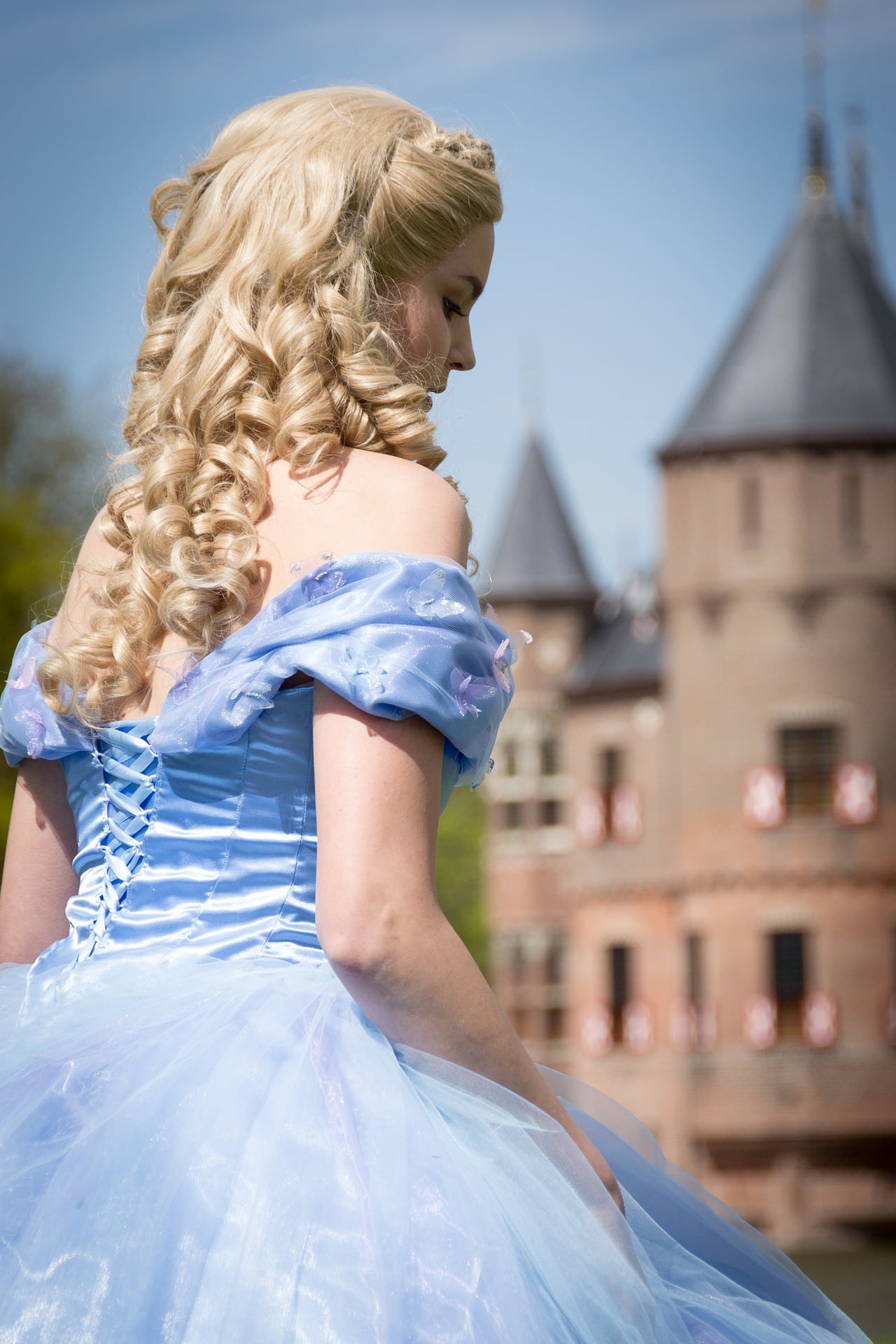 (Psst…don't forget the glass slippers.)
Grooms and groomsmen can get in on this, too! Dress up in a white shirt and black pants to channel your inner Prince Eric for a beach wedding or jazz up your tux with some Mickey cufflinks.
Decor
No one sets a stage better than Disney, so your Disney wedding isn't complete without amazing decor. The good news? You don't have to break your budget to create a magical atmosphere. Here are a few tips for decorating a Disney-themed wedding on a budget.
Hidden Mickeys
Disney is famous for this and it's super easy to do at your wedding. Arrange flowers, centerpieces, plates, or anything else you're already using into the classic Mickey shape. Guests will have fun trying to spot them all!
Light Show
In 2014, Disney introduced their interactive light show cakes and everybody wanted it on it! The problem was that not many people could get on board with the price tag.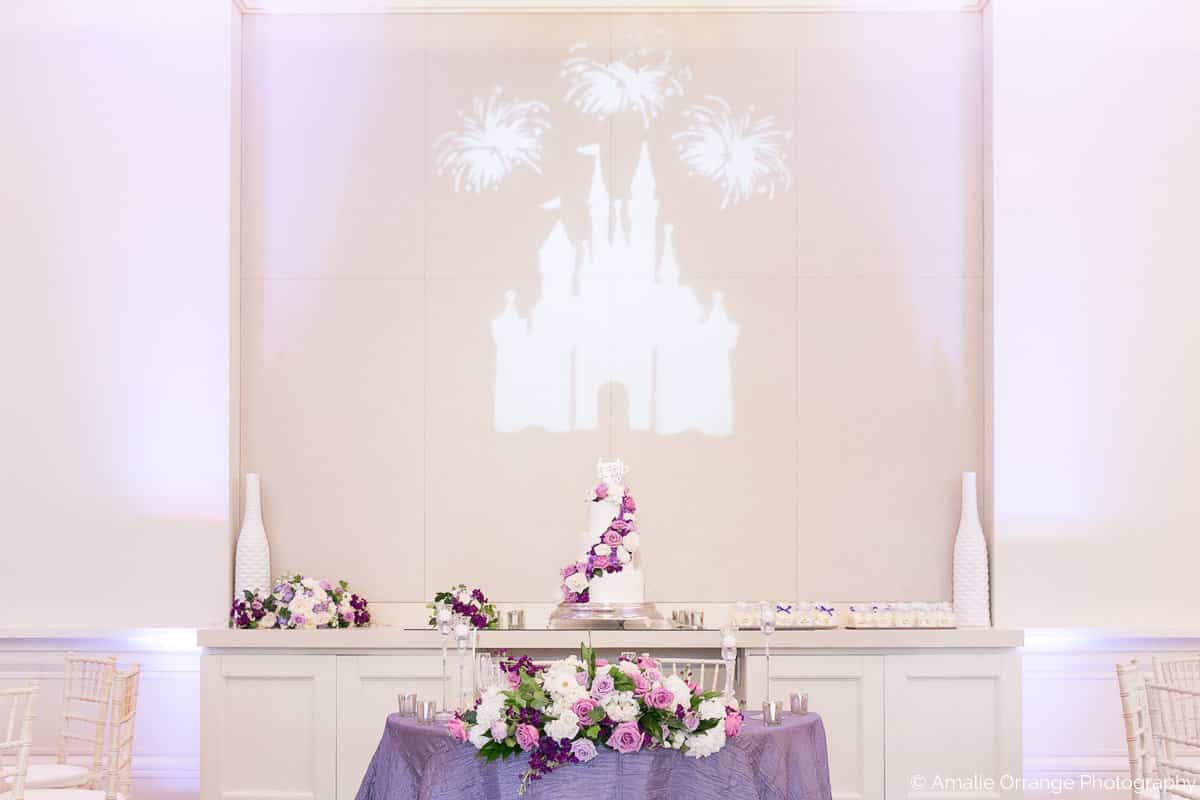 But there are other ways to "see the light" at your Disney wedding! Use light to project a classic Disney silhouette (like Cinderella's castle") on the wall at your venue.
Disney Font
If you're using any signage at your wedding reception, have it printed out using the Disney font. Download the "Waltograph" font from the internet (it's free!) and use to your heart's content.
Centerpieces
Your guests will be right in front of your reception table centerpieces for most of the night, so theming these right will go a long way. And the easiest way is to pick one flower, item, or motif from your favorite Disney movie and work it into a simple, yet stunning, centerpiece.
Snow White – apples
Cinderella – pumpkins
Alice and Wonderland – teapots
Little Mermaid – forks, shells
Beauty and the Beast – roses
Frozen – snowflakes (use dollar store Christmas ornaments!)
Can't decide? Pick a different movie for each table and decorate it to match. Your guests will love comparing the Up table to the Lady and the Tramp table!
Photos
If you're renting a photo booth for your reception, get some Disney-themed props for guests to play with.
Any photo booth company should have these (like our sister company, Photobooth Rocks), but if you're looking for some specific ones, a quick internet search will give you just what you're looking for.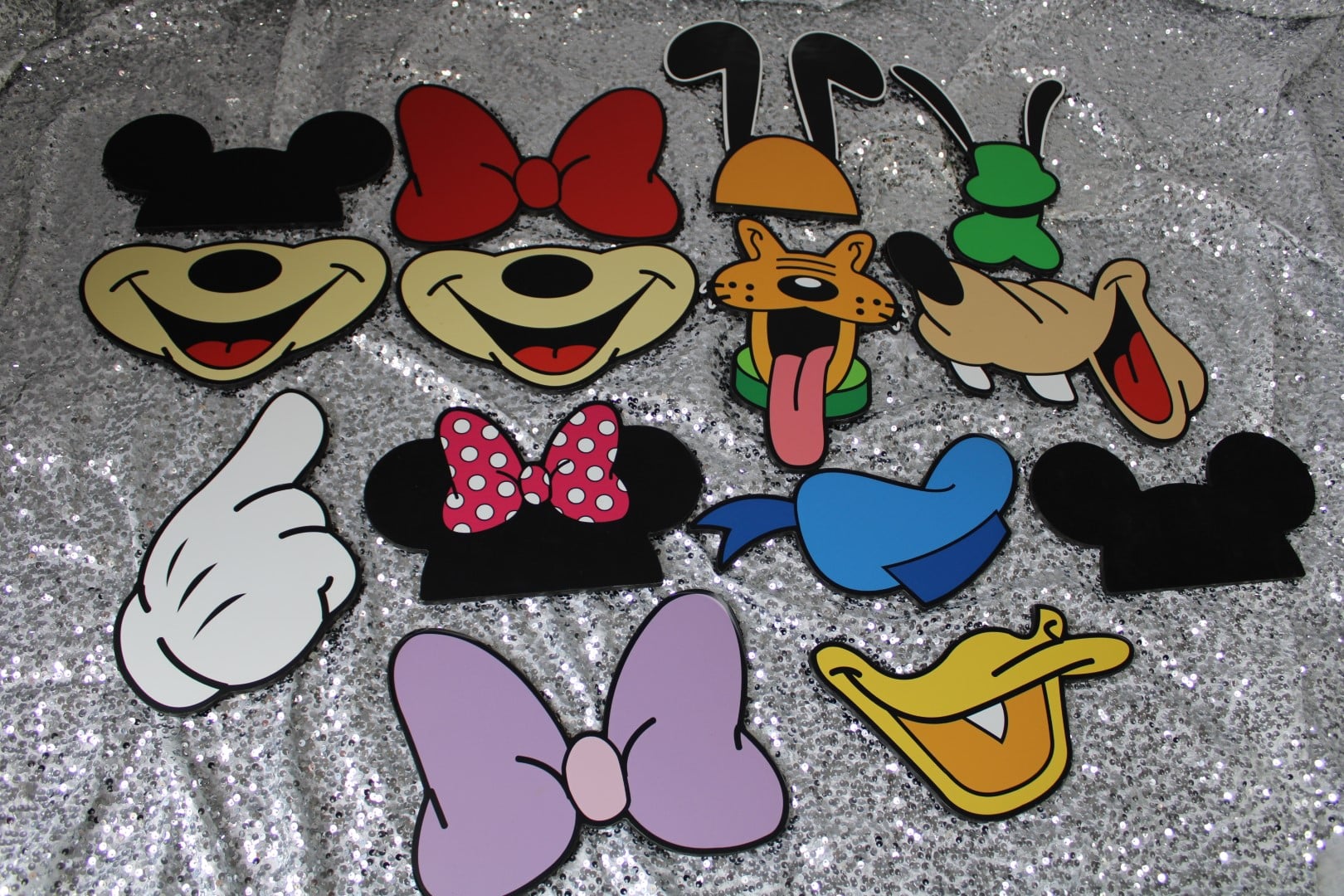 But don't let your guests have all the Disney-themed fun! Have your photographer help you recreate moments from your favorite Disney movies.
Maybe the bride can "lose" her slipper on a staircase, where her new husband finds it. Or the two of you can share a romantic waltz à la Belle and the Beast.
Music
Ahh…our comfort zone!
Incorporate some Disney songs at key moments for the ultimate Disney-themed wedding! Here are a few of our favorites for every part of your wedding day:
Processional: "Married Life" from Up
Bridal March: "At Last I See the Light" from Tangled, "A Whole New World" from Aladdin, "Someday My Prince Will Come" from Snow White, "Can You Feel the Love Tonight" from The Lion King
Recessional: "Kiss the Girl" from The Little Mermaid
Cocktail Hour: "Be Our Guest" from Beauty and the Beast, "You've Got a Friend in Me" from Toy Story
First Dance: "Tale as Old as Time" from Beauty and the Beast, "So This is Love" from Cinderella, "Lava" from Pixar short, Lava
Mother/Son Dance: "Baby Mine" from Dumbo
Father/Daughter Dance: "When She Loved Me" from Toy Story 2
Dancing: "Love is an Open Door" from Frozen, "Friend Like Me" from Aladdin, "Stand Out" from A Goofy Movie
Music is all about setting the mood and these song selections completely fit the bill.
And if you're looking for a little more magic, have your first dance on a cloud or in the "snow."
Food
It might be hard to have a full French menu with butler service for your Beauty and the Beast wedding, but there are more budget-friendly ways to pull your food into the Disney theme.
Try pulling one signature dish into the menu ("the grey stuff," perhaps?) and focus the rest of your attentions onto the wedding cake. After all, it's the centerpiece to your entire reception.
Disney cake designs don't have to be over-the-top, though. You can incorporate your color scheme for a simple, yet totally on-theme, look and add a fun cake topper.
Conclusion
Having a Disney-themed wedding doesn't have to call for a Disney World budget. With these tips, you can get married to your prince or princess in style (and still have enough leftover for a Disney honeymoon)!
At Our DJ Rocks, we love to create magical moments for our couples on their big day. We're all about creating those perfect fairy tale moments (and keeping the dance floor packed). We know all the best songs (including the Disney ones!) and we cannot wait to have a blast with you on your big day!