Best DJ Ever!!
Names: Jennifer + Edwin Cosme
Wedding Date: 01/10/2020
Just as the name says, OUR DJ ROCKED!!! This company is the best of the best! They offer soooo many services!
We came to Our DJ Rocks after an unfortunate mishap with another DJ that turned quite ugly. We were very distraught and stressed when we came to them. Needless to say, they eased our minds and souls.
We were hesitant because when we arrived for our meeting, the building is in a storage unit type strip mall. When you walk in though, you are transported to another world! The space is decorated very chic and tastefully. We met with Jessie and she took us through their office space to a meeting place upstairs. Looks definitely deceived us!
There was a cozy meeting area with a couch, decorative chairs, and a beautiful coffee table! We were offered coffee and water before we began the nitty gritty! We explained our story to Jessie and she made sure to assure us that what previously happened would NOT happen with them!
After some discussion with my fiancé, we chose them. We are so glad we did! We chose to use multiple services with them. We chose, DJ, uplights, dance on the clouds, and the photo booth.
They did NOT disappoint! They personalize your DJ to you as well! We were so blessed and fortunate to have Emily as our DJ! She was fun, exuberant, and just plain awesome. Added bonus, she was just as nerdy as us and it worked with our elegant Star Wars themed wedding.
Our DJ Rocks has a personal planning system that is perfect and easy to use. We communicated so much with Emily that I felt 100% at ease! Any song you couldn't find in their database, you could send directly to her. She even helped us coordinate our Darth Vader duel.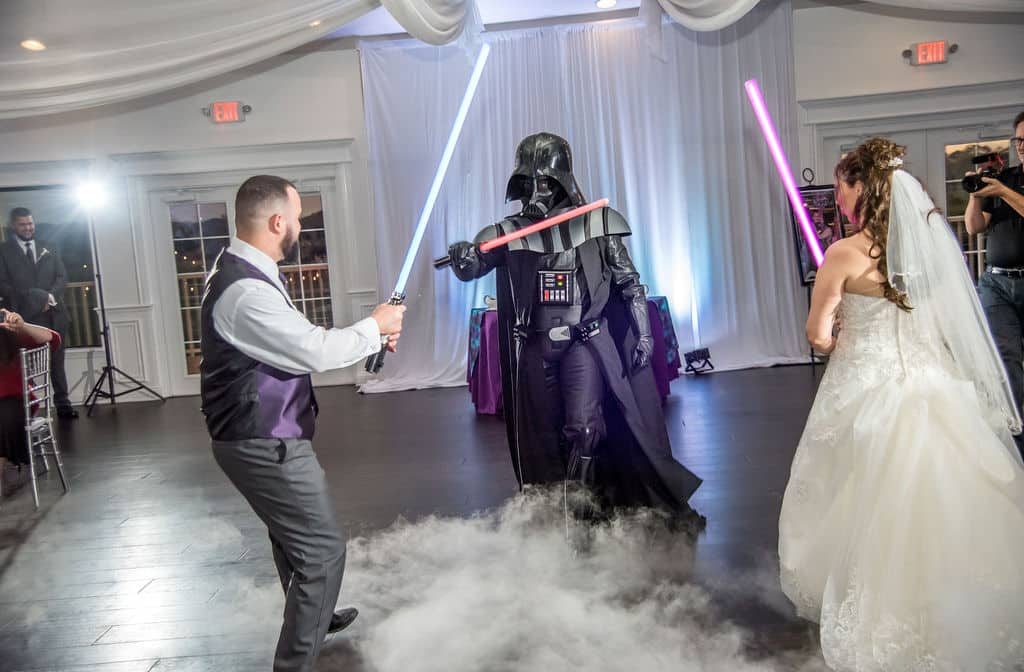 The photo booth was the best bang for your buck! Each guest gets their own copy of their photo and you get a copy as well for the complimentary guestbook. We didn't even have to think about getting a separate guestbook! This helped a lot.
We provided our own props, but you can purchase prop packages from them as well. You get a memory stick with all the photos, in case someone forgot to add theirs to the guestbook. Added bonus, you can customize your logo! You heard that…a customized logo for YOUR wedding for your photo strips! It was unbelievable.
Our favorite touch was finding a gift in our mailbox a few weeks after our wedding. Lo and behold, our very own wedding soundtrack! We listen to it often and appreciate it so much. Emily really went above and beyond with her customer service. We will be using Our DJ Rocks for our next event, you can bet on it!