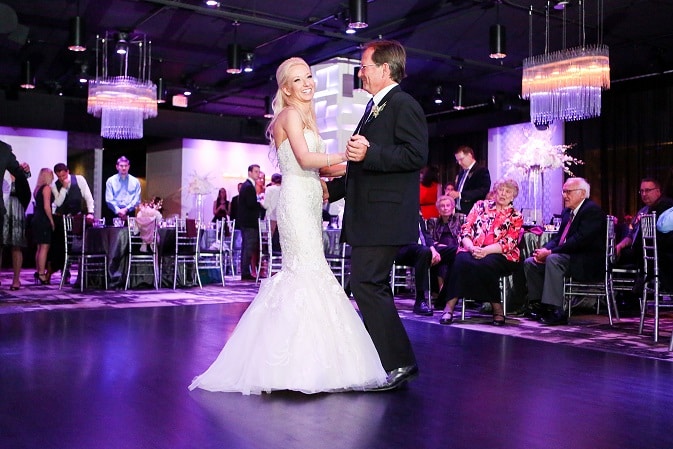 Modern Trendy Wedding at the Mezz
Modern Trendy Wedding at the Mezz
Are you the girl who matches her shoes with her purse and lipstick to your stunna shades and love the feel of the downtown area- then this is the venue for you! If you have not been to Mezz in downtown orlando it has innovative LED lighting and let's you get creative with your decor. Very upscale and #soooocute!
Lauren and Ryan chose the modern art and innovative Mezz in downtown Orlando for their wedding reception.
Cute Story Alert!!!!!!!!!!!!!!!!
DJ Kristin Said: I remember the conversations I had with Lauren's Dad. I was set and had the processional song cued 30 minutes early. He came over to chat with me about the surprise that he was planning for his Welcome Speech (there were a few musical logistics to review). I got to asking more questions and we talked for a brief time about his life, his story and relationship with her and his son. Every father and daughter have a unique relationship and each is precious in their own way. There are many moments in a wedding that are touching and deep. But there is only one moment in a wedding for a father. This one made me cry. This was HIS moment:
Some of their song choices included:
Bridal Party ♫ Turn Up the Music, Chris Brown
First Dance ♫ Fraily Chris First Dance Mix
Father/Daughter  ♫ My Wish, Rascal Flatt
Mother/Son ♫ Somewhere Over the Rainbow, IZ
Cake Cutting ♫ I'm Yours, Jason Mraz
Bouquet ♫ Single Ladies, Beyonce
Garter Removal ♫ Pour Some Sugar On Me, Def Leppard
Last Dance ♫ Don't Stop Believing, Journey
Must Play
Separate Ways – Journey
Uptown Funk – Bruno Mars
Uma Thurman – Fallout Boy
Take Me Home Tonight – Eddie Money
Sunglasses at Night – Corey Hart
Don't You Want Me – Human League
Shout – Animal House
Wedding Vendors Who Made it Rock
Ready To Rock Your Event?