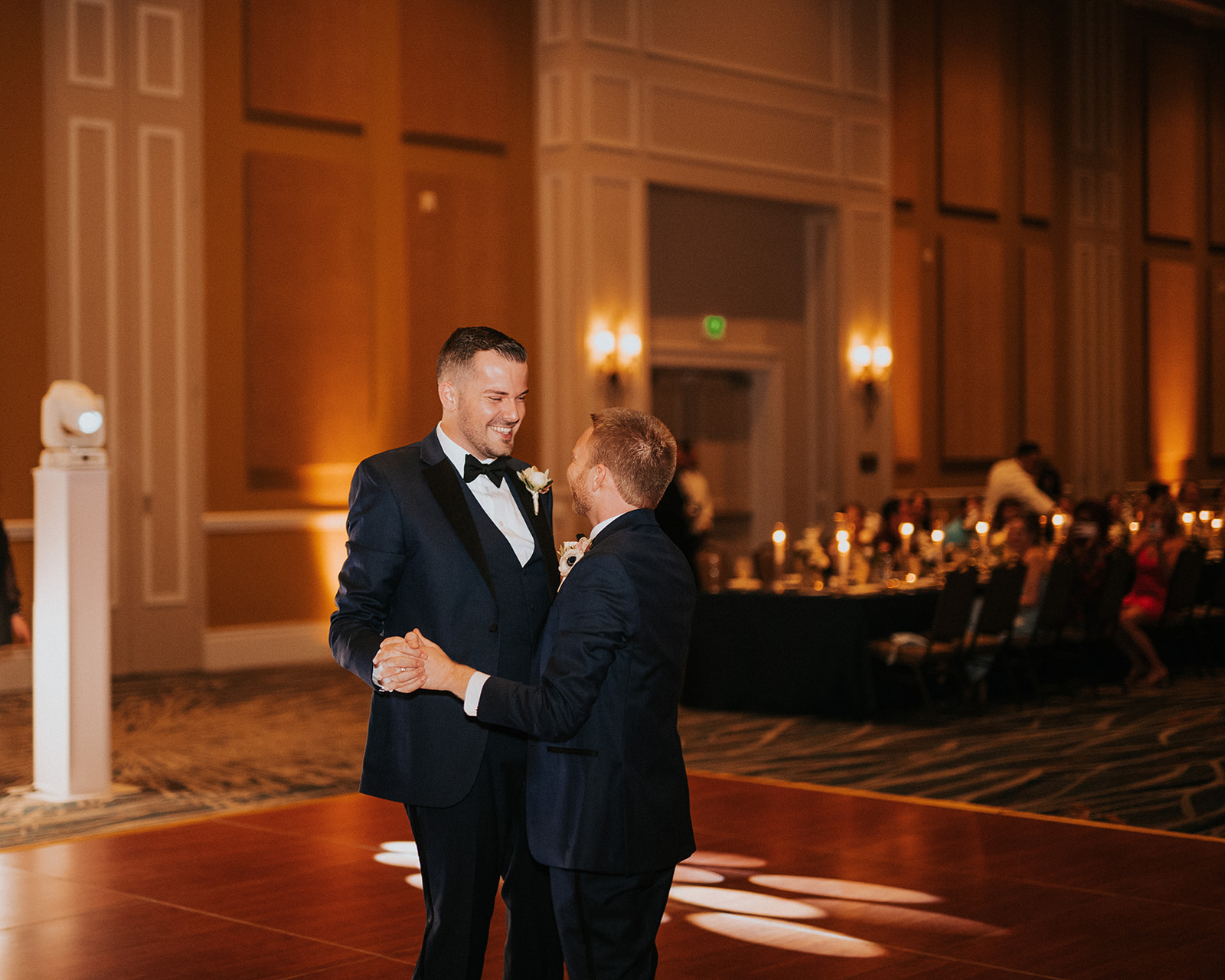 Romance and Luxury: Your Dream Wedding at Rosen Shingle Creek in Orlando
If you're looking for a stunning wedding venue in Orlando, Florida, look no further than the Rosen Shingle Creek. This luxurious resort offers a picturesque setting that's perfect for any couple's dream wedding. One of the things that make Rosen Shingle Creek so special is its gorgeous uplighting options, which can transform any space into a magical and romantic atmosphere.
Recently, Austin and Josh got married at Rosen Shingle Creek and with the upgraded lighting experience, their celebration was even more amazing!
The couple chose to dance their first dance to "The Way I Love You" by Michael Leah, and closed the night with "The Edge Of Glory" by Lady Gaga. They also had a must-dance-to playlist that included popular songs such as "WAP" by Cardi B and Megan Thee Stallion, "Levitating" by Dua Lipa ft. DaBaby, and "Rain On Me" by Lady Gaga and Ariana Grande. The party mix included Beyoncé's "PURE/HONEY" and "SUMMER RENAISSANCE", "Act Up" by City Girls, "Get Into It (Yuh)" by Doja Cat, and "Salute" by Little Mix.
Uplighting is available in a variety of colors, allowing you to customize the look and feel of your wedding day. Whether you want a warm and romantic glow, a pop of vibrant color, or anything in between, the expert lighting team at Rosen Shingle Creek can help you achieve your desired effect.
In addition to uplighting, Rosen Shingle Creek offers a variety of stunning wedding spaces. Whether you're planning an intimate ceremony or a grand celebration, there's a space that's perfect for your needs. For example, the Grand Ballroom can accommodate up to 1,500 guests and features elegant chandeliers and floor-to-ceiling windows that provide stunning views of the surrounding area. The Creek Room is a more intimate space that's perfect for smaller weddings or receptions, and features a private outdoor terrace that overlooks the golf course.
One of the best things about Rosen Shingle Creek is that the resort offers a variety of wedding packages that can be customized to fit your needs and budget. Whether you want a simple ceremony with a few close friends and family or a grand celebration with all the bells and whistles, the expert wedding planners at Rosen Shingle Creek can help you create the wedding of your dreams.
So if you're looking for a beautiful and romantic wedding venue in Orlando, Florida, be sure to check out Rosen Shingle Creek. With its stunning uplighting options, variety of wedding spaces, and expert wedding planning services, Rosen Shingle Creek is the perfect choice for couples who want a wedding that's both elegant and unforgettable.

Austin & Josh's Vendors
Photography – Oak and Iron
Flowers – Flowers by Lesley
Rentals – Ocean Hawks
Planner – Priscilla Rose Events
DJ + Lighting – Our DJ Rocks