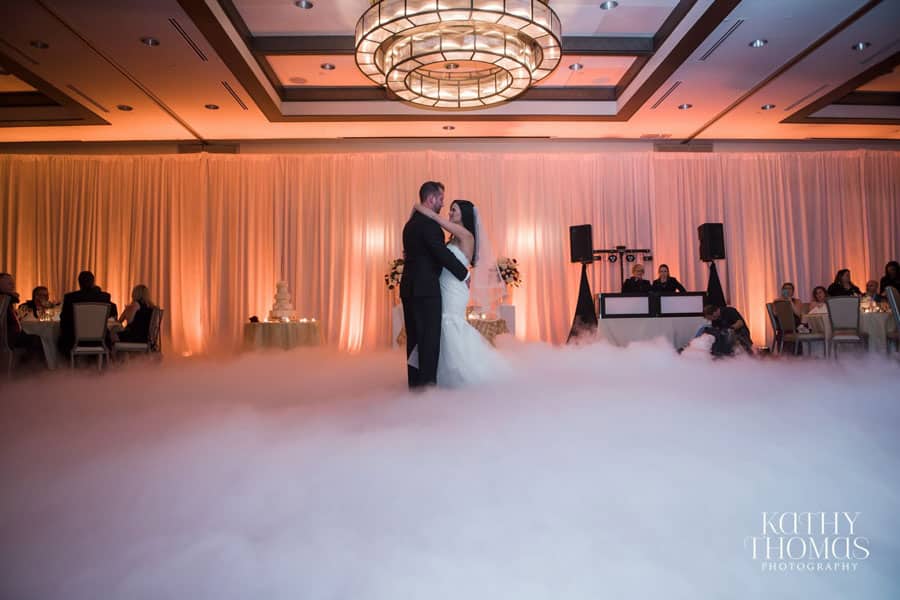 200+ Wedding Song Suggestions For Every Moment of Your Orlando Wedding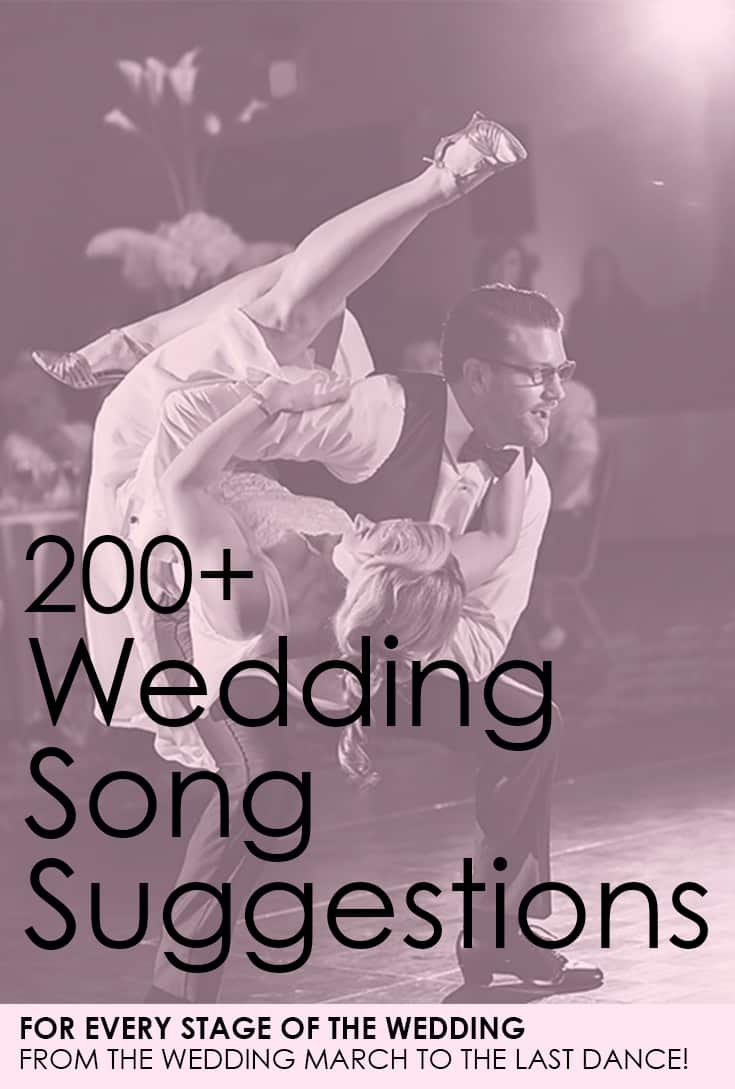 Gone are the days of the traditional dummm…. dum… dum dum….
Along with the opportunities to personalize your wedding down to the last detail comes a multitude of CHOICE when it comes to wedding music.
But sometimes CHOICE = CHAOS if you can't seem to find the right song.  Look no further! We have listed our top song choices, categorized for every moment of the wedding from the processional to the very last dance, and every soundtrack-worthy moment in between!
WEDDING CEREMONY MUSIC
The wedding ceremony involves four different songs. The first song is the processional. The start of the ceremony usually includes any family members such as grandparents, parents or other important parties who enter down the aisle and are seated first. After that, the wedding party enters to different music.
Next, everyone stands. It's time for the grand entrance into the ceremony. All eyes are on YOU coming down the aisle with that special someone you select to escort you. What is the perfect song for this amazing once-in-a-lifetime moment?
The last song you'll need for the ceremony is the recessional. You will be announced as a married couple and walk back down the aisle, hand in hand. This is your time to really play any song you want! Choose something uplifting—this is a time of celebration!!
Tips in Selecting Ceremony Music
There are so many options of music to play. Do you prefer classic or modern? Instrumental or upbeat? Which ever you choose, make sure the song is long enough for everyone to come in. It should also match the flow & the feel of the song played before it during the processional.
Angel, Jack Johnson
Such Great Heights, Iron and Wine
Use Somebody, Laura Jansen
Pachelbel's Canon in D
Make You Feel My Love, Adele
Waitin' On a Woman, Brad Paisley
Today Acoustic, Josh Radin
Marry Me, Train
Somewhere Over The Rainbow, IZ
Here Comes The Bride, Jonathon Cain
Bless the Broken Road, Rascal Flatts
Stand By Me, Manuel Granada (Spanish Guitar)
Love Never Fails, Brandon Heath
Here Comes Your Man, Pixies (Great for the guys!)
Calling You, Blue October
Wonderful Tonight, Vitamin String Quartet
Love Theme From St Elmo's Fire, David Foster
In My Life, Beatles
Come to Me, Goo Goo Dolls
Stand by Me, Seal
She is Love, Parachute
None Other, Michael Bublé
Only Girl, Boyce Avenue
Umbrella, Marie Digby
Today Acoustic, Joshua Radin
Free Fallin', Tom Petty
Baby I Love Your Way, Peter Frampton
I'm Yours, Vitamin String Quartet
There She Goes, Sixpence None the Richer
Ain't No Woman Like the One I've Got, The Four Tops
Dream, Priscilla Ahn
Somewhere Over The Rainbow, IZ
Pachelbel's Canon in D
Stand By Me, Manuel Granada (Spanish Guitar)
Love Never Fails, Brandon Heath
Angel, Jack Johnson
Marry Me, Train
Wedding March Brainstorm
Can't Help Falling in Love, Haley Reinhart
Love Never Fails, Brandon Heath
Glasgow Love Theme, from Love Actually
Wedding March, Jonathan Cain
Pachelbel's Canon in D
Make You Feel My Love, Adele
Bless the Broken Road, Vitamin String Quartet
Feels Like Home, Chantal Kreviazuk
Use Somebody, Laura Jansen
Waitin' On a Woman, Brad Paisley
Such Great Heights, Iron and Wine
By Your Side, Sade
Teenage Dream, Boyce Avenue
Just the Way You are, Vitamin String Quartet
Marry Me (Instrumental cover of Train's Song), Bridesmaid Quartet
From the Ground Up, Dan + Shay
Only Girl, Boyce Avenue
A Thousand Years, The Piano Guys
This Kind of Love, Sister Hazel
January Wedding, Avett Brothers
Here and Now, Luther Vandross
Your Guardian Angel (instrumental) Red Jumpsuit Apparatus
Wedding March for Solo Piano: from Midsummer Night's Dream Op. 61
You Make My Dreams Come True, Hall & Oates
Crazy Little Thing Called Love, Michael Bublé
Beautiful Day, U2
Would You Go With Me, Josh Turner
I Do, Colbie Caillet
Sweet Disposition, Temper Trap
All You Need is Love, Beatles
Marry Me, Train
You've Got the Love, Florence and the Machine cued up to :52 seconds
Don't Stop Believing, Vitamin String Quartet
You Are the Best Thing, Ray LaMontagne
Mendelssohn's Wedding March
Sign, Sealed, Delivered – Stevie Wonder
Now That We Found Love, Heavy D & The Boyz
Bitter Sweet Symphony, The Verve
Linus & Lucy, Peanuts Theme
Cowboy Take Me Away, Dixie Chicks
MUSIC FOR RECEPTION & DANCING
Upon arrival at the reception, we will greet the newlyweds and wedding party and prepare your Guests of Honor (i.e. Maid of Honor, Best Man, Mom, Dad, etc.) for introductions. Our style is a fun, yet formal introduction of everyone in the wedding party, culminating with the introduction of the newly married couple. We encourage you all to get somewhat creative with this event, as this sets the stage for the reception to follow!
As the cheers start to fade, we introduce the newlyweds "dancing together for the very first time as a married couple," followed by your chosen song. We then invite your Guests of Honor to your head table as we transition into our toasts followed by dinner. Once the dinner and formal dances have been completed, it's party time!!
As we transition from dinner to dancing, we'll pick the music up a bit to attract your guests attention to the dance floor. Then it's party time! Our job is to truly incorporate your music taste and preferences. We encourage you to provide us with a list of your favs, and your list of least favs! We love requests from your guests and we've noticed that sometimes those special requests from guests are the ones that create lasting memories on the dance floor. Even for those wallflowers!
Time to Be Announced!
This is What You Came For, Calvin Harris
Raise Your Glass, Pink
Turn Down For What, DJ Snake
Let's Go, Calvin Harris
Pump It Up, Joe Budden
Happy, Pharrell (The instrumental version)
Sky Full of Stars, ColdPlay
Feel this Moment, Pitbull Ft. Christina Aguilera
I Gotta Feeling, Black Eyed Peas
Let it Rock, Kevin Rudolf
Wild Beats, Ton Loc
Good Feelin, Flo Rida
The Way You Make Me Feel, Michael Jackson
Viva la Vida, Cold Play
One More Time, Daft Punk
Alive, Krewella
Thinking About You, Calvin Harris
Without You, David Guetta
More, Usher
Party Rock Anthem, LMFAO
Crazy In Love, Beyonce
Move Your Feet, Junior Senior
Get Ready for This, 2 Unlimited
Celebration, Kool and the Gang
Boom Boom Pow, Black Eyed Peas
Theme from Rocky
Forever, Chris Brown
Crazy in Love, Beyonce
One More Time, Daft Punk
First Dance
Say You Won't Let Go, James Arthur
Still into You, Julia Sheer
Cinema, Jason Evigan
The Way you Make Me Feel, Tim Stop
Forever and For Always, Shania Twain
At Last, Etta James
How Long Will I Love You, Ellie Goulding
I Cross my Heart, George Strait
Lover Lay Down, Dave Matthews Band
This Kind of Love, Sister Hazel
Collide (acoustic version), Howie Day
Last First Kiss, Ron Pope
Love, Justin Nozuka
All of Me, John Legend
From the Ground Up, Dan + Shay
H.O.L.Y, Florida Georgia Line
Thinking Out Loud, Ed Sheeran
Yellow, Coldplay
Parent Dances
Humble and Kind, Tim McGraw
My Wish, Rascal Flatts
I Hope You Dance, Lee Ann Womack
Wonderful Tonight, Eric Clapton
You'll Be In My Heart, Phil Collins
Dance Baby Dance, Chris Cagle
My Little Girl, Tim McGraw
Landslide, Fleetwood Mac
There You'll Be, Faith Hill
I Loved Her First, Heartland
Cinderella, Steven Curtis Chapman
Stealing Cinderella, Chuck Wicks
The Way You Look Tonight, Frank Sinatra
Have I Told You Lately, Rod Stewart
Somewhere Over the Rainbow, Israel "IZ" Kamakawiwoʻole's
Sweet Child of Mine (any version)
A Song for Mama, Boys to Men
Hero, Mariah Carey
Your Song, Elton John
Simple Man, Lynyrd Skynrd
Ready, Set, Don't Go, Billy Ray Cyrus DJ Rock
Additional Special Dances
Smile, Nat King Cole
There You'll Be, Faith Hill
Can You Feel The Love Tonight, Elton John
Then They Do, Trace Adkins
What A Wonderful World, Louis Armstrong
You Raise Me Up, Josh Groban
Through The Years, Kenny Rogers
Because You Loved Me, Celine Dion
My Wish, Rascal Flatts
Send Me On My Way, Rusted Root
Stand By Me, Ben E. King
Fix You, Coldplay
Isn't She Lovely, Stevie Wonder
My Girl, The Temptations
Cute Caking Cutting Songs
All I Want is You, Juno
Grow Old With You, Adam Sandler
Pour Some Sugar On Me, Def Leppard
I'm Yours, Jason Mraz
Lucky, Jason Mraz
White Dress, Ben Rector
Sugar, Maroon 5
Love, Nancy Adams
The Way I Am, Ingrid Michaelson
My Girl, The Temptations
How Sweet It Is (To Be Loved By you), James Taylor
You Make My Dreams Come True, Hall & Oates
Sugar Sugar, Archies
Candyman, Christina Aguilera
The Way I Am, Ingrid Michaelson
Beautiful Day, U2
Forever and Ever Amen, Randy Travis
Sweeter, Gavin DeGraw
Love, Justin Nozuka
Overwhelmed, Tim McMorris
Give Me Love, Ed Sheeran
Beautiful, Mariah Carey Ft Miguel
I Do, Colby Caillat
Lips Like Sugar, Echo and The Bunnyman
Anyone Else But You, Michael Cera & Ellen Page
This is the First Day of My Life, Bright Eyes
Lucky, Jason Mraz & Colbie Caillat
I Got You Babe, Sonny & Cher
When I'm 64, Beatles
Better Together, Jack Johnson
1, 2, 3, 4 (I Love You), Plain White T's
I Can't Help Myself (Sugar Pie, Honey Bunch), Four Tops
Love and Marriage, Frank Sinatra
This Will Be (An Everlasting Love), Natalie Cole
Everything, Michael Bublé
Recipe for Love, Harry Connick Jr.
Love Story, Taylor Swift
Bubbly, Colbie Caillat
Hit Me With Your Best Shot, Pat Benetar
Tunes for the Bouquet Toss
Salute, Little Mix
Just a Girl, No Doubt
American Woman, Lenny Kravitz
Little White Church, Little Bit Town
Wishin' and Hopin', Ani Difranco
Single Ladies, Beyonce
Spice Up Your Life, Spice Girls
Milkshake, Kelis
Firework, Katy Perry
Girlfight, Brooke Valentine
Girls Just Want To Have Fun, Cyndi Lauper
Maneater, Nelly Furtado
Who Run the World, Beyoncé
Ladies Night, Kool & Gang
Glamorous, Fergie
Like a Virgin, Madonna
Gold Digger, Kanye West
Wishing and Hoping, Ani Defranco
Where Them Girls At, David Guetta feat. Nicki Minaj and Flo Rida
One Way or Another, Blondie
This One's for the Girls, Martina McBride
Hey Ladies, Beastie Boys
Lady Marmalade, Christina Aguilera, Lil Kim, Mya & Pink
Girls, Beastie Boys
Glamorous, Fergie
Move B**CH, Ludacris
American Woman, Lenny Kravitz
Dirrty, Christina Aguilera
The Stripper, David & The His Orchestra Rose
Get Lucky, Daft Punk
Fever, Michael Bublé
Earned It, The Weeknd
Naughty Girl, Beyonce
Super Freak, Rick James
Gettin' Jiggy With It, Will Smith
American Woman, Lenny Kravitz
Gorilla, Bruno Mars
All Shook Up, Avila
Hot for Teacher, Van Halen
Keep Your Hands To Yourself, Georgia Satellites
Sexy & I Know It, LMFAO
I'm Too Sexy, Right Said Fred
Whip It, Devo
Whatta Man, Salt N Pepa
Nice n Slow – Usher
Mission Impossible Theme Song
Lets Get It On, Marvin Gayes
I Like It (Pitbull)
Bump n Grind, R Kelly
You Can Leave Your Hat On, Tom Jones
Come and Get it, Selena Gomez
Pony, Genuwine
All Shook Up, Elvis Presley
Real Good Man, Tim Mcgraw
Meeting in my Bedroom, Silk
Suit & Tie, Justin Timberlake
It's Raining Men, The Weather Girls
Oh Yeah, Yello
Take It Off, Kiss
U Can't Touch This, MC Hammer
Theme from Jaws
Ain't To Proud to Beg, Temptations
You Can Leave Your Hat On,- Joe Crocker
Danger Zone, Lenny Kravitz
Hot for Teacher, ZZ Top
Wild Thing, Ton Loc
Another One Bites The Dust, Queen
Real Good Man, Tim McGraw
Sexyback, Justin Timberlake
Bad Boys (Theme from Cops)
Big Pimpin', Jay Z
Eye of the Tiger, Survivor
I'm Still a Guy, Brad Paisley
Whatta Man, Salt N Pepa
Macho Man, Village People
I'm a Slave For You, Britney Spears
Superfreak, Rick James
Womanizer, Britney Spears
Hot in Herre, Nelly
Last Dance
Take Me Home Tonight, Eddie Money
The Time, Black Eyed Peas
Time of My Life, Dirty Dancing
Sweet Caroline, Neil Diamond
Don't Stop Believing, Journey
Nothing's Gonna Stop Us Now, Starship
Save the Last Dance for Me, Michael Bublé
Glad you Came, Wanted
We Are Young, FUN
The Very Last Dance (as Couple, Alone)
How Long Will I Love You, Ellie Goulding
This, Ed Sheeran
By Your Side, Justin Nozuka
My All, Mariah Carey
Perfect for Me, Ron Pope
A Beautiful Mess, Jason Mraz
Gravity, John Mayer
This Kind of Love, Sister Hazel (Acoustic)
All of Me, John Legend
Forever and Always, Shania Twain
Hey Pretty Girl, Kip Moore
Teenage Dream, Boyce Avenue
Wanted, Hunter Hayes or the Boyce Avenue Cover
Last First Kiss, Ron Pope
My Heart is Yours, Justin Nozuka
We hope you found this epic list of wedding song suggestions helpful!  Did we miss some?  Leave your questions or more suggestions in the comments below!  Be sure to share on Facebook or Pin to your wedding board on Pinterest!
Xo,
Kristin & the Our DJ Rocks team
PS: Don't forget to book your photo booth for the most epic wedding ever! (Our 360 Booth is sure to turn some heads!)
Ready To Rock Your Event?