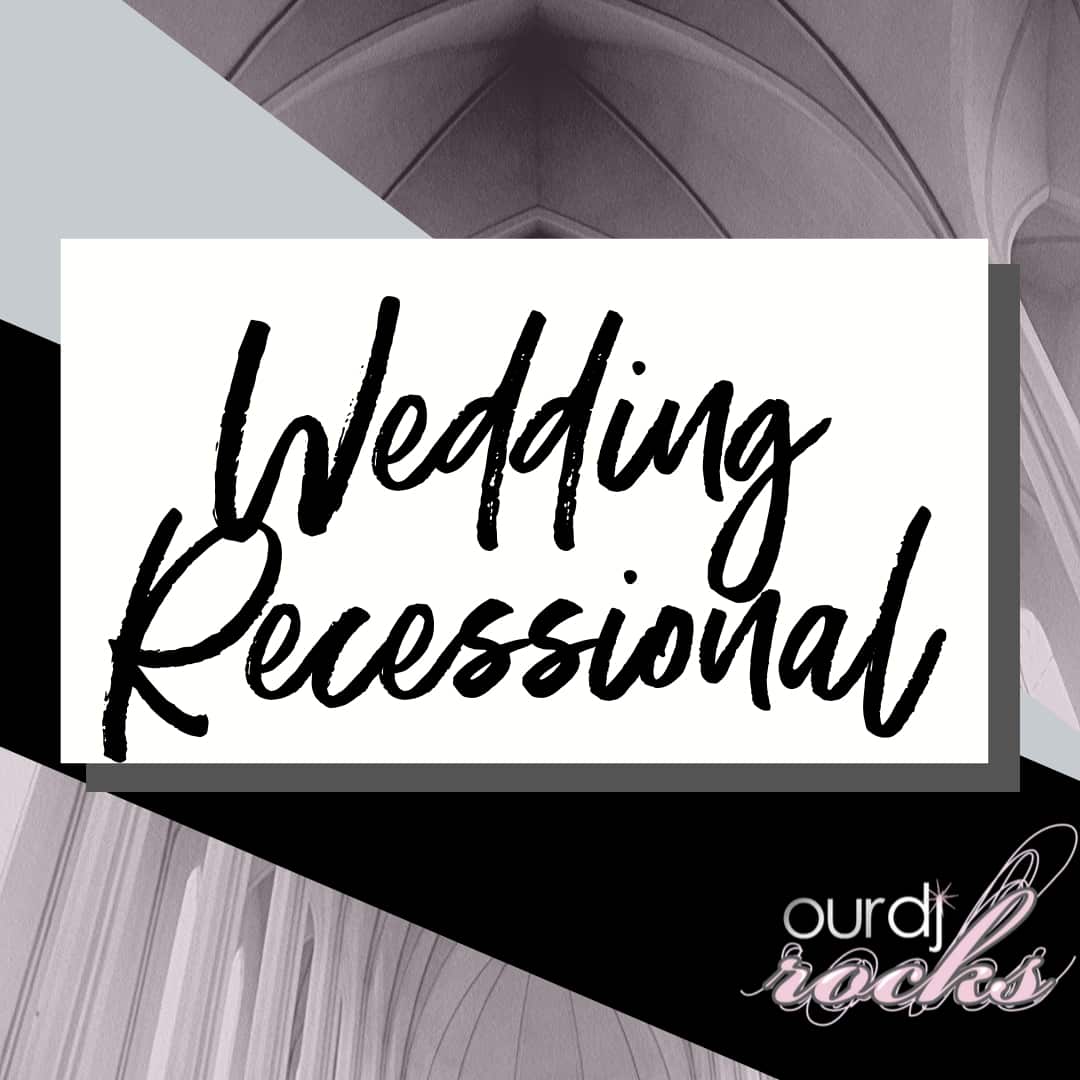 40+ Wedding Recessional Songs
One could argue that it's the peak of your entire wedding: that moment that you and your Soulmate kiss and walk down the aisle as a married couple. Emotions are running high, the venue looks amazing, and you feel like you're in a movie…shouldn't you have a soundtrack to match?
The right wedding recessional songs can take an amazing moment and make it utterly magical.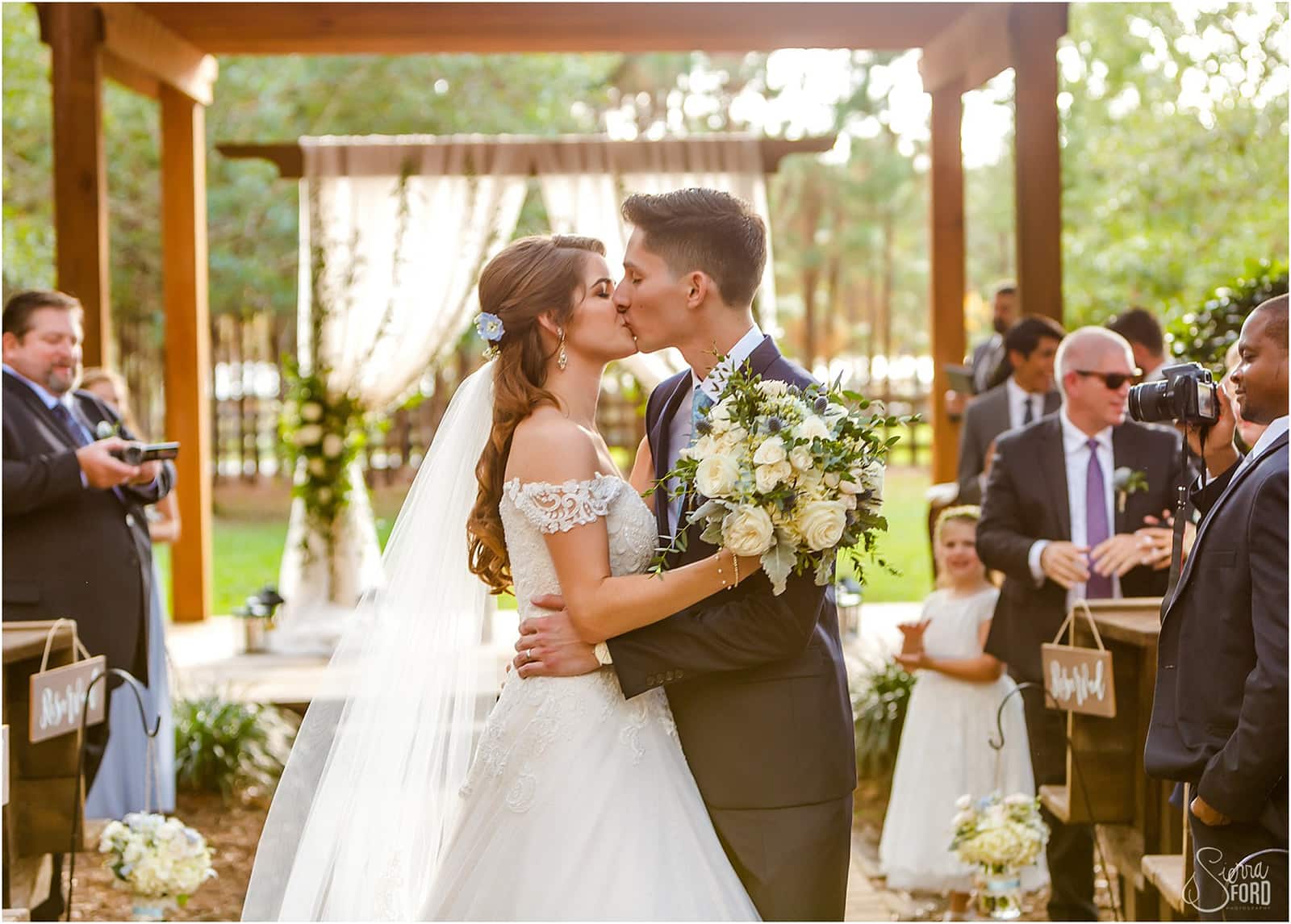 Our Favorite Wedding Recessional Songs
Our favorite ceremony recessional songs are upbeat, reflecting the joy you feel at (finally!) being married and celebrating your love together. You can go slow and solemn for your bridal march or your first dance, but if there's ever a moment to throw a peppy song into the ceremony, it's during the recessional!
Take a look at our 40+ favorite wedding recessional songs and see which one strikes your fancy!
1. I Do – Colbie Caillat
Favorite Line: "And when I'm eighty years old and sittin' next to you / And when we remember when we said / I do."
2. Lucky – Jason Mraz & Colbie Caillat
Favorite Line: "I'm lucky I'm in love with my best friend / Lucky to have been where I have been / Lucky to be coming home again."
3. Signed, Sealed, Delivered – Stevie Wonder
Favorite Line: "Babe you set my soul on fire / That's why I know you're my one desire."
4. Ain't No Mountain High – Marvin Gaye & Tami Terrell
Favorite Line: "From that day on, I made a vow / I'll be there when you want me / Some way, somehow."
5. Best Day of My Life – American Authors
Favorite Line: "I'm never gonna look back / Whoa, never gonna give it up / No, just don't wake me now / This is gonna be the best day of my life."
6. Rather Be – Clean Bandit
Favorite Line: "As long as I am with you / My heart continues to beat."
7. How Sweet It Is (To Be Loved By You) – James Taylor
Favorite Line: "Close my eyes at night / And wonder what would I be without you in my life / Everything was just a bore / All the things I did, seems I've done 'em before / But you brightened up all of my days / With a love so sweet in so many ways."
8. This Will Be (An Everlasting Love) – Natalie Cole
Favorite Line: "You've brought a lot of sunshine into my life / You've filled me with happiness I never knew / You gave me more joy than I ever dreamed of / And no one, no one can take the place of you."
9. This Is What You Came For – Calvin Harris & Rihanna
Favorite Line: "And everybody's watching her / But she's looking at you."
10. Marry You – Bruno Mars
Favorite Line: "Is it the look in your eyes, or is it this dancing juice / Who cares baby, I think I wanna marry you."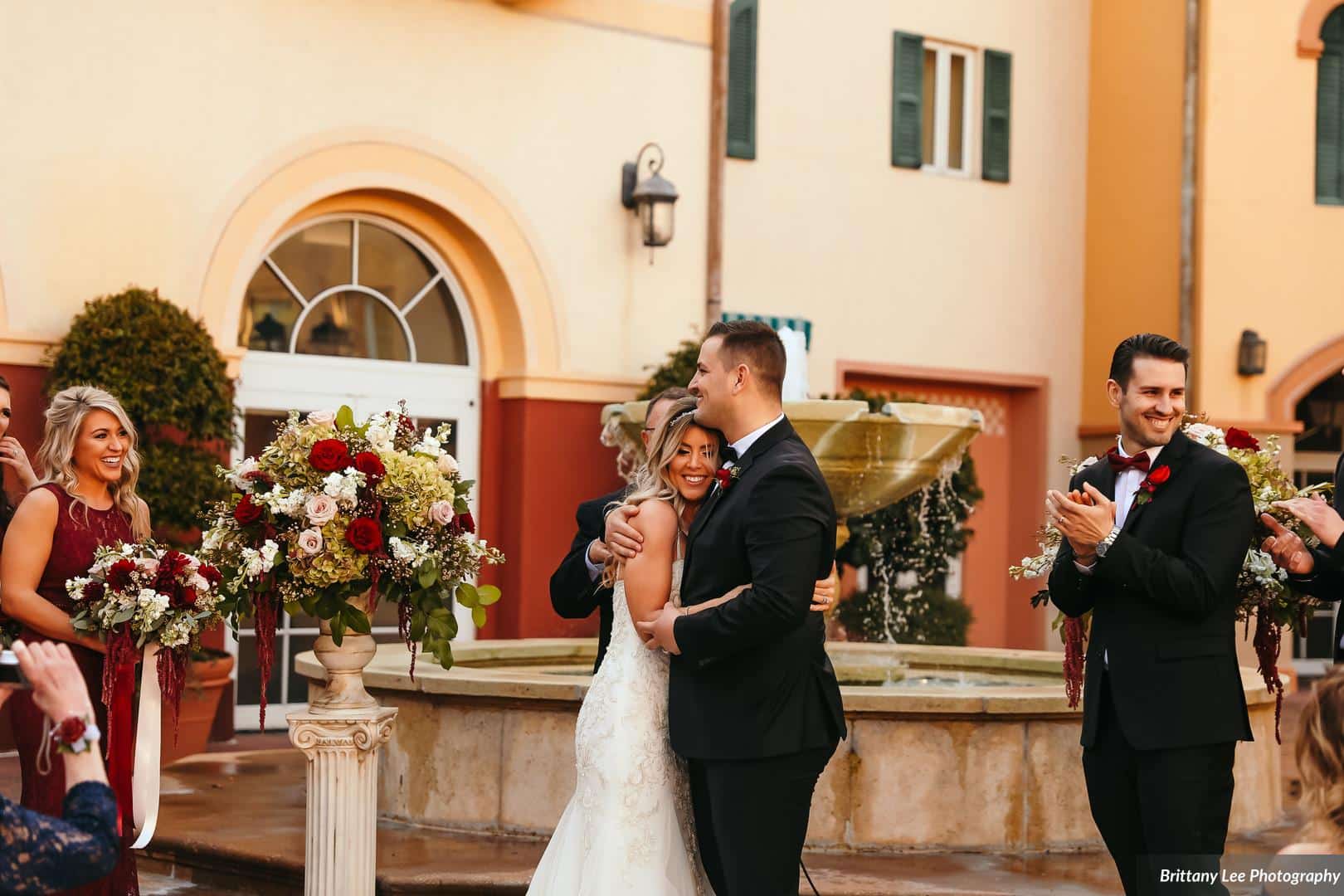 11. Wouldn't It Be Nice – The Beach Boys
Favorite Line: "Happy times together we've been spending / I wish that every kiss was never ending."
12. I Choose You – Sara Bareilles
Favorite Line: "Tell the world that we finally got it all right / I choose you / I will become yours and you will become mine."
13. You Make My Dreams – Hall & Oates
Favorite Line: "And wrap yourself around me / 'Cause I ain't the way you found me / And I'll never be the same."
14. Crazy Little Thing Called Love – Michael Bublé
Favorite line: "There goes my baby / She knows how to rock 'n' roll / She drives me crazy / She gives me hot and cold fever / Then she leaves me in a cool cool sweat."
15. Beautiful Day – U2
Favorite Line: "You thought you'd found a friend / To take you out of this place / Someone you could lend a hand / In return for grace."
16. Would You Go With Me – Josh Turner
Favorite Line: "If I gave you my hand would you take it / And make me the happiest man in the world?"
17. I'm Gonna Be (500 Miles) – The Proclaimers
Favorite Line: "I would walk 500 miles / And I would walk 500 more / Just to be the man who walked a thousand miles / to fall down at your door."
18. Sweet Disposition – Temper Trap
Favorite Line: "A moment, a love / A dream aloud / A kiss, a cry / Our rights, our wrongs."
19. All You Need is Love – Beatles
Favorite Line: "All you need is love / Love is all you need."
20. You've Got the Love – Florence and the Machine
Favorite Line: "When food is gone you are my daily meal, oh / When friends are gone I know my savior's love is real / Your love is real."
21. You Are the Best Thing – Ray LaMontagne
Favorite Line: "It's like you see right through me / And make it easier / Believe me, you don't even have to try / Oh, because /
You are the best thing."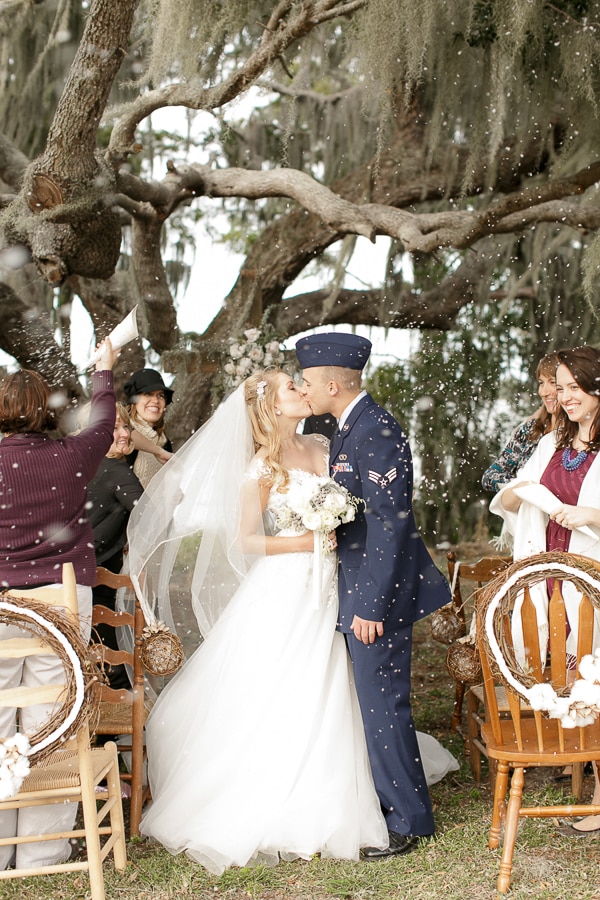 22. Cowboy Take Me Away – Dixie Chicks
Favorite Line: "I wanna be the only one for miles and miles / Except for maybe you and your simple smile / Oh, it sounds good to me."
23. L-O-V-E – Nat King Cole
Favorite Line: "Love was made for me and you."
24. Sugar – Maroon 5
Favorite Line: "'Cause I really don't care where you are / I just wanna be there where you are."
25. This Kiss – Faith Hill
Favorite Line: "Ride me off into the sunset / Baby, I'm forever yours."
26. Love On Top – Beyoncé
Favorite Line: "Baby it's you / You're the one I love / You're the one I need / You're the only one I see / Come on baby it's you."
27. Crazy in Love – Beyoncé & Jay Z
Favorite Line: "It's the beat my heart skips when I'm with you / But I still don't understand / Just how your love can do what no one else can."
28. The Way You Make Me Feel – Michael Jackson
Favorite Line: "I never felt so in love before / Just promise baby, you'll love me forevermore."
29. Love Never Felt So Good – Michael Jackson & Justin Timberlake
Favorite Line: "Oh baby, love never felt so good / And I doubt if it ever could."
30. I'm Into Something Good – The Bird and the Bee
Favorite Line: "We only danced for a minute or two / But then she stuck close to me the whole night through / Can I be fallin' in love / She's everything I've been dreamin' of."
31. Happy Together – The Turtles
Favorite Line: "I can't see me lovin' nobody but you / For all my life / When you're with me, baby, the skies will be blue / For all my life."
32. Let My Love Open the Door – Audio Adrenaline
Favorite Line: "When tragedy befalls you / Don't let it drag you down / Love can cure your problems / You're so lucky I'm around."
33. I Melt With You – Modern English
Favorite Line: "There's nothing you and I won't do / I'll stop the world and melt with you."
34. Safe and Sound – Capital Cities
Favorite Line: "You could be my luck / Even if the sky is falling down / I know that we'll be safe and sound."
35. Can't Take My Eyes Off Of You – Frankie Valli and the Four Seasons
Favorite Line: "At long last love has arrived / And I thank God I'm alive / You're just too good to be true / Can't take my eyes off you."
36. Best of My Love – The Emotions
Favorite Line: "I like the way you make me feel about you, baby / Want the whole wide world to see."
37. Just Like Heaven – The Cure
Favorite Line: "Show me how you do it and I'll promise you / I'll promise that I'll run away with you."
38. Love Story – Taylor Swift
Favorite Line: "Romeo, take me somewhere we can be alone / I'll be waiting, all there's left to do is run / You'll be the prince and I'll be the princess / It's a love story, baby, just say yes."
39. Come and Get Your Love – Redbone
Favorite Line: "Cause you're fun and you're mine and you look so divine / Come and get your love."
40. Marry Me – Jason Derulo
Favorite Line: "The more I look, the more I find the reasons why / You're the love of my life."
41. Baby, Be My Love Song – Easton Corbin
Favorite Line: "Baby be my melody / My little feel good that gets to me."
42. She's In Love With the Boy – Trisha Yearwood
Favorite Line: "She's in love with the boy / And even if they have to run away / She's gonna marry that boy someday."
43. Forever and Ever, Amen – Randy Travis
Favorite Line: "As sure as I live, this love that I give / Is gonna be yours until the day that I die."
Conclusion
You might be spending most of your time planning for the dinner, dancing, and the dress. But face it…you spend most of your time dreaming about the time you can finally say the word "husband" or "wife." And the right music can create the perfect atmosphere for that milestone moment.
With any of these wedding recessional songs (and the right DJ+MC), you'll be able to create the perfect tear-jerker moment…right before you get the party started!
At Our DJ Rocks, we don't just want you to have "music." We want you to have a one-of-a-kind celebration! Ask about our photo booths (including our newest, the 360 booth), or about our packages and availability; call us today!