January 27th 2021
Today the National Association of Catering and Events (NACE) Florida Chapter released COVID-19 Florida Event Safety Guidelines. These will help guide clients, planners, and vendors create safe events. For more info, click over to our blog. 
---
January 2021
We're focused on the health and safety of our team, families, and communities. We've been asked many times about the things we're doing to keep you rocking safely with a photo booth. Meet our FRESH AND SO CLEAN TEAM!

---
July 15, 2020
The way COVID has impacted how we're looking at the world has drastically changed, specifically our world of celebration weddings. Our owner Kristn has spent countless hours on the Dean's Board at the University of Central Florida's Rosen School of Hospitality, on nationwide Leadership calls with other DJs, as well as acting as a Pro Educator for The Knot and Wedding Wire on how we as an industry can help guide our couples to still being able to celebrate their marriage during this pandemic. 
Here are some proactive ways that we've seen our couples adapt their plans for wedding celebrations:
Celebrate with Safety – Work with your venue and wedding planner to create a socially distanced floor plan and use your venue space with purpose. 
Get Creative – We've seen customized monogrammed masks for safety, and hand sanitizer as wedding favors.
Host a Micro-wedding – an intimate celebration for your closest family and friends. This would mean having all of the formalities and moments you dreamed at your wedding, like introducing you as a married couple, first dance, parent dances, cake cutting or maybe even a last dance. Rather than 100 people on the guest list, this would be with up to 35 guests. 
Have a "mini-mony" now, and a party later. This means a small ceremony now with your closest friends and family, and then planning the larger wedding reception at a later date with all of the moments – first dance, parent dances, cake cutting, shoe game, packed dance floor, grand exit, etc. 
With any of the above, you can also add a livestream element for those guests who cannot make it to the ceremony. 
Let us know how we can continue to make your wedding day memorable. We are here and we are READY TO ROCK!
---
June 20, 2020
Together, we are facing a truly unprecedented situation. The global pandemic is affecting all of our families, our businesses, our communities, and our way of life. During this time, we wanted to update you on how we're approaching the situation at Our DJ Rocks. 
First and foremost, our hearts go out to anyone who's been impacted by the virus, either directly or indirectly. 
Secondly, we're focused on the health and safety of our team, families, and communities. 
Here are the steps we are taking to help with this pandemic so we can safely ROCK with our couples! 
Policies and Procedures – Company-wide 
All equipment in our warehouse is cleaned with disinfectant solutions, and we will continue to do so during events and after each use. 

All team members will wear masks while at events. 

Gloves will be provided to our team and they will use them when necessary. 

All vans/trucks are stocked with sanitizing wipes and hand sanitizer. 

To reduce the interaction with others, we will be implementing the 6ft distancing rule whenever possible. 

Microphones will be sanitized between uses.

Any staff that is sick or does not feel well are asked to remain at home until they are medically cleared to return to work. 
We want to thank you for your continued support and trust in us! We strive to be your event solution for you and your guests while providing you with the ultimate event experience. We will continue to deliver great service while following our standard way of operating and implementing new procedures to help battle the spread of Covid-19. 
We can't wait to ROCK with you!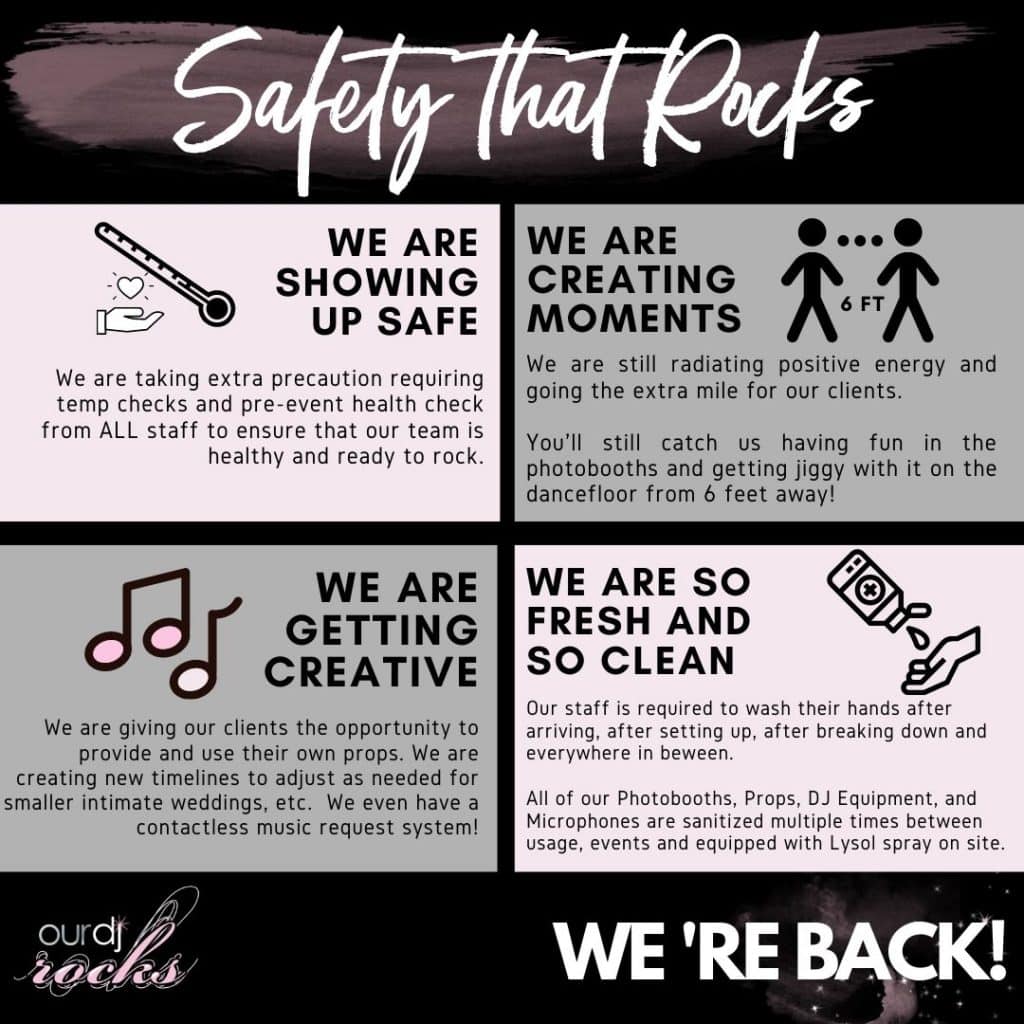 ---
June 1, 2020
To our super dope couples:
This video is for YOU. There isn't a day that goes by that we don't think of you. We are pumped to celebrate with you. To party with you. To cheer you on as you make your way down the aisle. Love is not cancelled.
We always say that when you booked with us, you agreed to put a ring on it.
We are serious about that commitment.
We are by your side no matter what and are committed to your wedding.
We are committed to bringing your wedding day vision to life.
Love is not cancelled & our entire team is ready to ROCK!
xo Kristin
---
March 24, 2020
We are so sorry you are having to even question your wedding or event plans right now. We are monitoring the news and all updates very closely as they come up and taking the necessary measures to keep our team and our clients safe. I can assure you that we are on your team, and will do everything we can do make sure you feel taken care of!
Currently we are working with our couples and clients who have events in the next 45 days to postpone their weddings and events. If and when further government mandated actions come into play, we'll definitely look at other dates for postponement.
We went live on Facebook to share how we are handling postponements, how we are preparing to rock a new kind of event post COVID-19 and our plan to rock with you all for another 10 years. Watch this video or read the transcript to learn more about how we've got your back during this time.
If you are affected by everything that's going on, please reach out to us at 
Office@ourdjrocks.com
 and someone from our team will be in touch within 48 hours!
Sending you all our love,
Kristin + the Our DJ Rocks Team