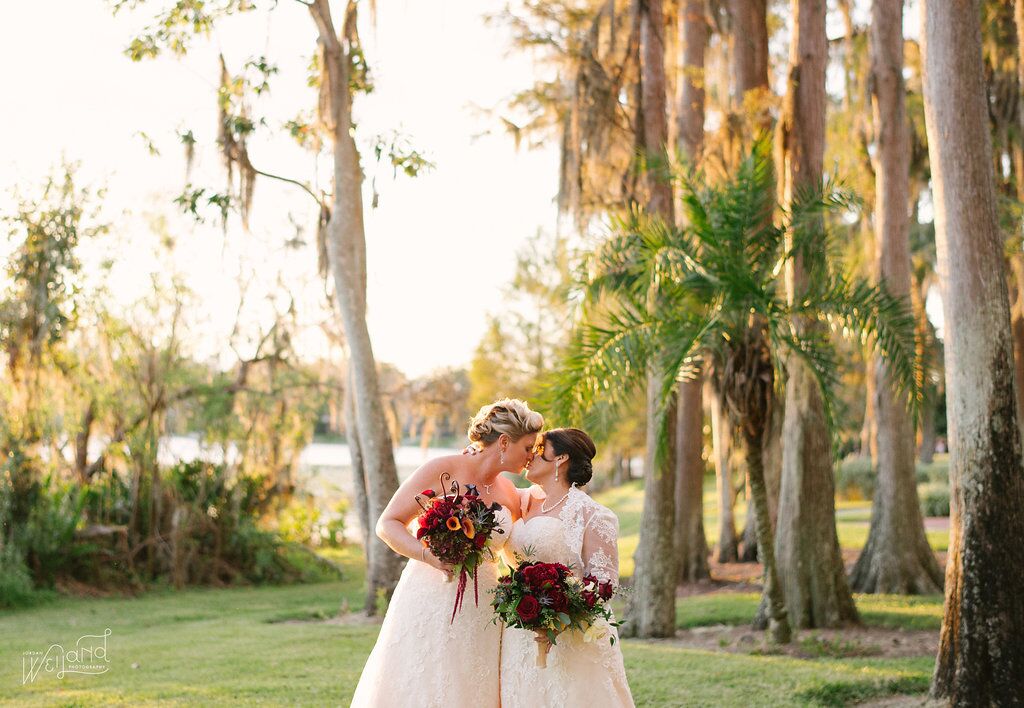 Orlando Wedding at Cypress Grove Estate House – Maria + Andrea
When Maria and Andrea first came to me, they made it very clear they wanted a HUGE dance party. We had DJ-ed Maria's daughter's wedding a few years prior so she knew we were the right fit. Maria is Cuban, so we knew for sure we wanted a little bit of her culture infused into the music. To give you an idea of their reception vibe, take a look at some of their song requests below.
The Cypress Grove Estate House was a beautiful setting that perfectly culminating this lovely couple tying the knot! After working with various LGBT advocacy groups for years to get the right to marry, Maria and Andrea knew they wanted to celebrate BIG! The historic estate house gave the whole day the right amount of Southern charm and the couple even had an ivy-covered wall decorated with a sentiment that perfectly described the event: "love is love is love." (Seriously, though…isn't that gazebo setting STUNNING?)
The outdoor setting strung with cafe lights made a beautiful reception hall as well as a dance floor! As you can see, the floor was full all night and both beautiful brides started married life together in style! Their song requests definitely had a fun "party!" vibe to them that kept their guests smiling and dancing.
One of my favorite moments during their wedding was Maria's daughter Ashley's toast. She said, "My mom is a force of nature, as you know. She is brilliant, she gets things done, she always makes things happen, and she is always looking to change things for the better, and I think that's the person that all of you know. The woman I know is someone who has such a big heart, is sensitive, and empathetic. And that part of my mom used to always tell me that finding your soul mate is something that not everyone gets to experience. And that it's a real gift. And I think for a long time, my mom thought that it was not one of the blessings she would have in her life…but then she met Andrea…And she said to me, 'I think this could be my chance at crazy love.'"
I'm in tears thinking about it, you'll have to watch the video by Love and Lustre to feel the emotion. It was absolutely incredible!
Andrea + Maria from Love and Lustre Weddings on Vimeo.
These lovely women share a beautiful love story, which you can read more about in their feature in Watermark Online.
It was an honor to celebrate your special day with you and we wish you happiness and love for the rest of your forever!
Song List
"Despacito" by Luis Fonsi Feat. Daddy Yankee
"Mi Tierra" by Gloria Estefan
"Footloose" by Kenny Loggins
"Always Something There To Remind Me" by Naked Eyes
"Kiss" by Prince
"Can't Stop The Feeling!" by Justin Timberlake
"Yeah!" by Usher
"Brown Eyed Girl" by Van Morrison
"Bust a Move" by Young MC
"Love Shack" by The B-52's
"Thinking Out Loud" by Ed Sheeran
"What Goes Around, Comes Around" by Justin Timberlake
"Rain Over Me" by Marc Antony + Pitbull
"Happy" by Pharrell Williams
"Cream" by Prince
"I Can't Help Myself" by The Four Tops