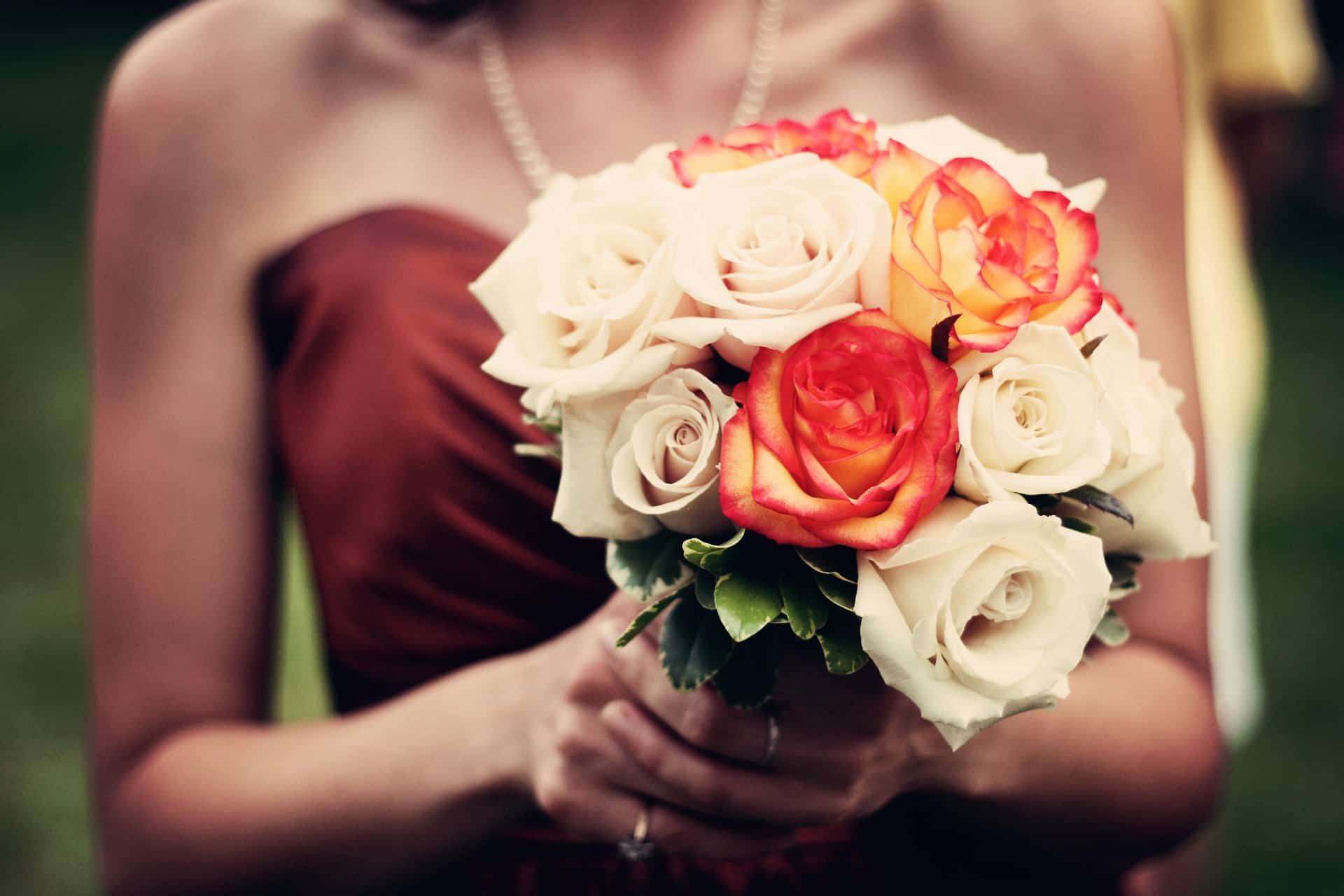 40+ Family Processional Songs for a Truly Magical Wedding
You give a lot of thought to your first dance, mother/son, and father/daughter dances, but how much thought have you given to the ceremony music?
Your ceremony is the cornerstone of the entire day. It's the moment when the two of you join your lives together forever with your friends and family in attendance. The right music selections will set the tone for the entire event.
Most people choose a selection of ceremony music: ambient music while guests are being seated, family processional songs, wedding party processional songs, and a bridal processional. Bridal marches get a lot of press, so we decided to shed some light on our favorite family processional songs. If you're lucky, you'll have parents, grandparents, and other close family to celebrate your special day, and they should be honored!

Our Favorite Family Processional Songs
Whether you prefer classic or contemporary, sentimental or quirky, these family processional songs will get your wedding ceremony off on the right foot.
1. Angel – Jack Johnson
Favorite Line: "I've got an angel / She doesn't wear any wings / She wears a heart that can melt my own"
2. Such Great Heights – Iron and Wine
Favorite Line: "I have to speculate / That God himself did make us into corresponding shapes / Like puzzle pieces from the clay."
3. Use Somebody – Laura Jansen
Favorite Line: " You know that I could use somebody / Someone like you."
4. Make You Feel My Love – Adele
Favorite Line: "I could make you happy, make your dreams come true / There's nothing that I wouldn't do."
5. Waitin' On a Woman – Brad Paisley
Favorite Line: "I'll say this about the honeymoon, it was worth it / Waitin' on a woman."
Ready To Rock Your Event?
6. Today – Josh Radin
Favorite Line: "And I thank God you came along / And you are the one I've been waiting for today."
7. Marry Me – Train
Favorite Line: "You wear white and I'll wear out the words 'I love you.'"
8. She Is Love – Parachute
Favorite Line: "She is love / And she is all I need."
9. Shallow – Bradley Cooper and Lady Gaga
Favorite Line: "Crash through the surface, where they can't hurt us / We're far from the shallow now."
10. Wild Horses – Susan Boyle
Favorite Line: "You know I cannot let you just slide through my hands / Wild horses couldn't drag me away."
11. God Gave Me You – Blake Shelton
Favorite Line: "For when I think I've lost my way / There are no words here left to say, it's true / God gave me you."
12. All of Me – John Legend
Favorite Line: "'Cause all of me loves all of you / Love your curves and all your edges / All your perfect imperfections."
13. Somewhere Only We Know – Lily Allen
Favorite Line: "Is this the place we used to love? / Is this the place that I've been dreaming of?"
14. Somewhere Over the Rainbow – Israel Kamakawiwo'ole
Favorite Line: "Somewhere over the rainbow / Bluebirds fly / And the dreams that you dream of / Dreams really do come true."
15. Bless the Broken Road – Rascal Flatts
Favorite Line: "Others who broke my heart, they were like northern stars / Pointing me on my way into your loving arms."
16. I Will Be Here – Steven Curtis Chapman
Favorite Line: "When the mirror tells us we're older / I will hold you and / I will be here to watch you grow in beauty."
17. Mess is Mine – Vance Joy
Favorite Line: "You're the reason that I feel so strong / The reason that I'm hanging on."
18. Turning Pages – Sleeping at Last
Favorite Line: "Nothing prepared me for / What the privilege of being yours would do."
19. Unchained Melody – Lykke Li
Favorite Line: "Oh, my love, my darling / I've hungered for your touch."
20. When I Said I Do – Clint Black
Favorite Line: "But forever you and I will be the ones / Who found out what forever means."
21. Love Never Fails – Brandon Heath
Favorite Line: "When my heart won't make a sound / When I can't turn back around / When the sky is falling down / Nothing is greater than this."
22. (You Make Me Feel Like) A Natural Woman – Carole King
Favorite Line: "Now I'm no longer doubtful, of what I'm living for / And if I make you happy I don't need to do more."
23. You & Me – Dave Matthews Band
Favorite Line: "But right now it's you and me forever girl."
24. Kiss Me – Sixpence None the Richer
Favorite Line: "Strike up the band, and make the fireflies dance / Silver moon's sparkling / So kiss me."
25. Every Breath You Take – The Police
Favorite Line: "Oh can't you see / You belong to me."
26. Calling You – Blue October
Favorite Line: "Well I will keep calling you to see / If you're sleeping are you're dreaming / If you're dreaming, are you dreaming of me / I can't believe you actually picked me."
27.  In My Life – The Beatles
Favorite Line: "But of all these friends and lovers / There is no one compares with you."
28. Grow Old With Me – John Lennon
Favorite Line: "Grow old along with me / Two branches of one tree."
29. You And I – Michael Bublé
Favorite Line: "Here we are on earth together / It's you and I / God has made us fall in love, it's true / I've really found someone like you."
30. Baby I Love Your Way – Peter Frampton
Favorite Line: "Ooh baby I love your way / I wanna tell you I love your way / I wanna be with you night and day."
31. Only Girl (In the World) – Boyce Avenue
Favorite Line: "I'm gonna make you feel that you're the only girl in the world / Like you're the only one that I'll ever love."
32. First Day of My Life – Bright Eyes
Favorite Line: "Yours was the first face that I saw / I think I was blind before I met you / I don't know where I am, I don't know where I've been / But I know where I want to go."
33. This I Promise You – *NSYNC
Favorite Line: "I give you my heart / This is a battle we've won / And with this vow / Forever has now begun."
34. I Do (Cherish You) – Mark Wills
Favorite Line: "I do, cherish you / For the rest of my life / You don't have to think twice / I will love you still, from the depths of my soul."
35. God Only Knows – Beach Boys
Favorite Line: "If you should ever leave me / Though life would still go on, believe me / This world could show nothing to me / So what good would living do me? / God only knows what I'd be without you."
Instrumental Family Processional Songs
Looking for a more traditional sound? These instrumental wedding processional songs are old favorites for a reason. They're beautiful, lyric-less, and set the perfect tone for your wedding ceremony.
36. Canon in D – Pachelbel
Canon in D is a perennial favorite for family processional songs. It's familiar and beautiful, but doesn't sound somber.
37. Stand By Me – Manuel Granada
The same song you know and love, but translated for a Spanish guitar.
38. St. Elmo's Fire Love Theme – David Foster
It's one of those songs that everyone knows but doesn't know that they know (you know?).
39. Jesu, Joy of Man's Desiring – Bach
This is another classic(al) song that lends a light, romantic atmosphere to any event.
40. Air on the G String – Bach
Inappropriate-sounding name aside, this is a classic gem that sounds perfect, whether it's coming from a piano or a string quartet.
41. Anything by Vitamin String Quartet
You really can't go wrong with Vitamin String Quartet! Whether they're covering The Beatles or The Killers, these instrumental geniuses can make any song sound romantic.
Conclusion
When choosing the family processional songs for your ceremony, you can't go wrong with any of these. And if you don't care for the version we've picked (but really love the lyrics and melody) find another version! If it's available anywhere, we can find it.
get more music |  200+ Wedding Song Suggestions
get inspiration  | pinterest.com/ourdjrocks
get social | facebook.com/ourdjrocks
get in contact | orlando wedding dj
(By the way, don't forget a photo booth! Our 360 booth is sure to turn heads!)
Ready To Rock Your Event?