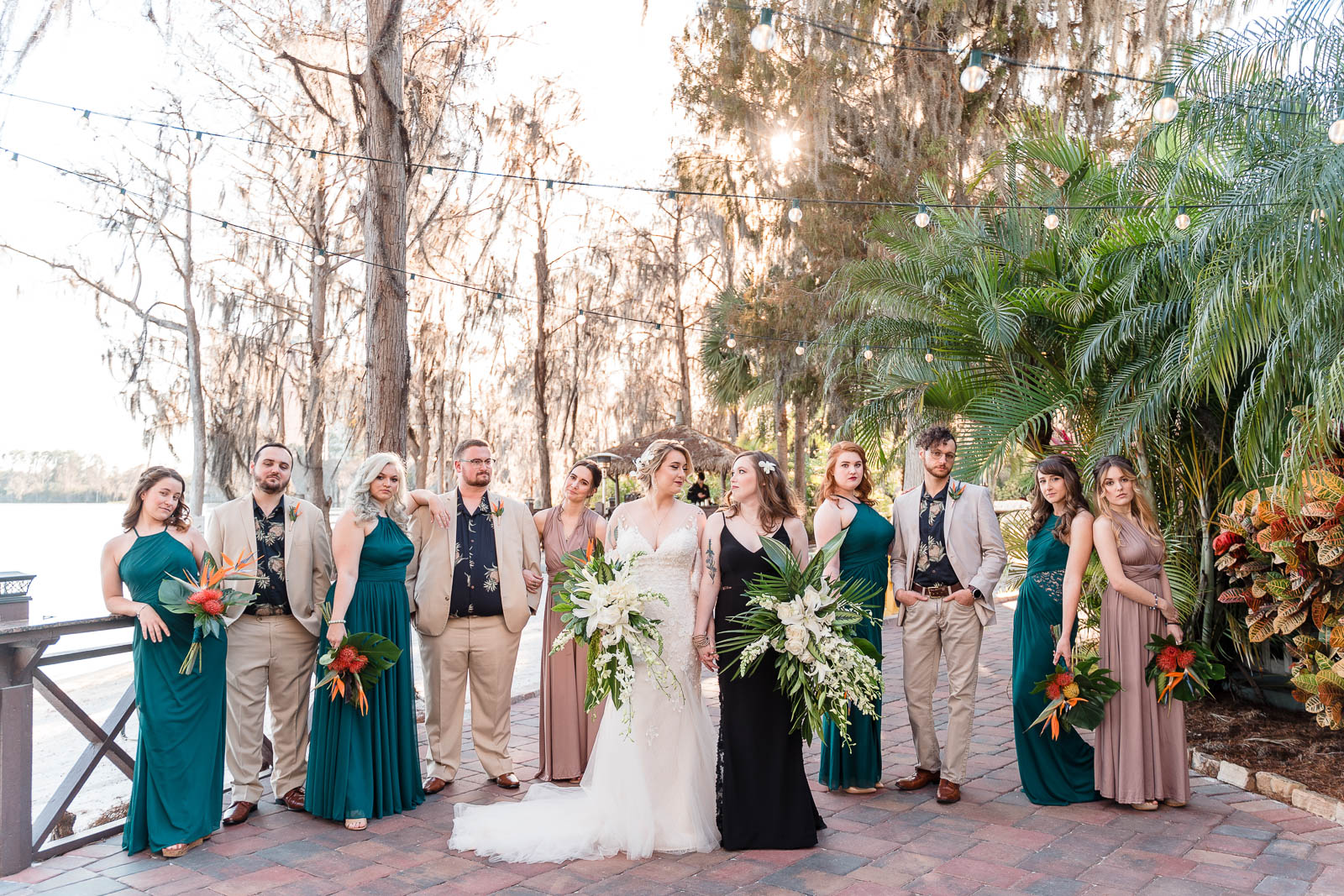 30+ Wedding Party Processional Songs
The family have made it down the aisle. In a minute, all eyes will be on the YOU. But first, your lovely wedding party need to make their grand entrance.
Choosing the right music from the thousands of wedding party processional songs on offer can be overwhelming. There's so many genres to choose from! That's why we've pre-selected our favorite song selections for your bridesmaids to walk down the aisle to.
Our Favorite Wedding Party Processional Songs
While you want to save your most tear-jerking, show-stopping song for your wedding entrance, you still want to pick a great song for your bridesmaids. Once they start walking down the aisle, the wedding has officially begun!
Whether you prefer modern or traditional, you're bound to find the perfect wedding party processional song here.
1. There She Goes – Sixpence None the Richer
Favorite Line: "She calls my name / pulls my train / no one else could heal my pain."
2. Angel – Jack Johnson
Favorite Line: "I've got an angel / She doesn't wear any wings / She wears a heart that can melt my own."
3. Wonderful Tonight – Eric Clapton
Favorite Line: "I feel wonderful because I see / The love light in your eyes / And the wonder of it all / Is that you just don't realize how much I love you."
4. Bless the Broken Road – Rascal Flatts
Favorite Line: "Others who broke my heart / they were like northern stars / Pointing me on my way into your loving arms."
5. Marry Me – Train
Favorite Line: "You wear white and I'll wear out the words 'I love you.'"
Ready To Rock Your Event?
6. She is Love – Parachute
Favorite Line: "She is love / And she is all I need."
7. Oh, It Is Love – Hellogoodbye
Favorite Line: "Oh, say, wouldn't you like to be / Older and married with me?"
8. Baby, I Love Your Way – Peter Frampton
Favorite Line: "Ooh baby I love your way / I wanna tell you I love your way / I wanna be with you night and day."
9. Today – Joshua Radin
Favorite Line: "And I thank God you came along / And you are the one I've been waiting for today."
10. Only Girl (in the World) – Boyce Avenue
Favorite Line: "I'm gonna make you feel that you're the only girl in the world / Like you're the only one that I'll ever love."
11. Say You Won't Let Go – Boyce Avenue
Favorite Line: "But I wanna stay with you until we're grey and old / Just say you won't let go."
12. (You Make Me Feel Like) A Natural Woman – Carole King
Favorite Line: "Now I'm no longer doubtful, of what I'm living for / And if I make you happy I don't need to do more."
13. Higher Love by James Vincent McMorrow
Favorite Line: "Think about it, there must be higher love / Down in the heart and in the stars above / Without it, life is wasted time / Look inside your heart, I'll look inside mine."
14. Endless Love – Luther Vandross and Mariah Carey
Favorite Line: "Two hearts that beat as one / Our lives have just begun."
15. How Does a Moment Last Forever – Celine Dion
Favorite Line: "Sometimes our happiness is captured / Somehow, our time and place stand still / Love lives on inside our hearts and always will."
16. I Love You – Sara McLachlan
Favorite Line: "Let me surround you / My sea to your shore / Let me be the calm you seek."
17. I'm Gonna Be (500 Miles) – Sleeping at Last
Favorite Line: "I would walk 500 miles / And I would walk 500 more / Just to be the man who walked a thousand miles / to fall down at your door."
18. Good Life – OneRepublic
Favorite Line: "Say oh, got this feeling that you can't fight / Like this city is on fire tonight / This could really be a good life."
19. The Power of Love – Celine Dion
Favorite Line: "Even though there may be times / It seems I'm far away / Never wonder where I am / 'Cause I am always by your side."
20. Better Together – Us the Duo
Favorite Line: "It's not always easy and sometimes life can be deceiving / I'll tell you one thing / It's always better when we're together."
21. Breathe – Faith Hill
Favorite Line: "I can feel the magic floating in the air / Being with you gets me that way / I watch the sunlight dance across your face / And I've never been this swept away."
22. Thinking Out Loud – Ed Sheeran
Favorite Line: "I fall in love with you every single day."
23. I'm Yours – Jason Mraz
Favorite Line: "Our time is short / This is our fate, I'm yours."
24. All I Ask Of You – Andrew Lloyd Weber
Favorite Line: "Say you'll share with me one love, one lifetime / Say the word and I will follow you."
25. I'll Cover You – Rent
Favorite Line: "I've longed to discover / Something as true as this is / So with a thousand sweet kisses, I'll cover you."
26. Make You Feel My Love – Adele
Favorite Line: "No, there's nothing that I wouldn't do / To make you feel my love."
27. And I Love Her – The Beatles
Favorite Line: "A love like ours could never die / As long as I have you near me."
28. A Whole New World – Aladdin
Favorite Line: "But when I'm way up here / It's crystal clear / That now I'm in a whole new world with you."
29. Can't Help Falling In Love – Elvis Presley
Favorite Line: "Take my hand, take my whole life, too / For I can't help falling in love with you."
30. (Everything I Do) I Do It For You – Bryan Adams
Favorite Line: "There's no love / Like your love / And no other / Could give more love / There's nowhere / Unless you're there."
31. You're Still the One – Shania Twain
Favorite Line: "You're still the one I run to / The one that I belong to / You're still the one I want for life."
32. Something – The Beatles
Favorite Line: "Somewhere in her smile she knows / That I don't need no other lover."
Instrumental Wedding Party Processional Songs
Sometimes, as the old song says, "you say it best when you say nothing at all." If you're looking for a more traditional sound, these instrumental classics will lend the perfect atmosphere for your bridal party processional (while still saving some drama for the bride's big moment).
33. Jesu, Joy of Man's Desiring
This is a classic(al) song that lends a light, romantic atmosphere to any event.
34. Bittersweet Symphony – Vitamin String Quartet
The original version is beautiful, but the lyrics don't exactly lend themselves to a wedding ceremony. This is where Vitamin String Quartet can step in and save the day.
35. Canon in D – Pachelbel
Canon in D is a perennial favorite among bridal party processional songs. It's familiar and beautiful, but doesn't sound somber.
36. Stand By Me – Manuel Granada
The same song you know and love, but translated for a Spanish guitar.
Conclusion
Any of these bridal party processional songs are sure to set the right tone for your wedding ceremony, whether it's large or intimate, quirky or traditional. While you're creating your wedding reception playlist, don't forget to select the ceremony music. After all, it's the most important part of the day!
Don't forget the photo booth! Our Light Tunnel makes a great addition to any event!
get more music |  200+ Wedding Song Suggestions
get inspiration  | pinterest.com/ourdjrocks
get social | facebook.com/ourdjrocks
get in contact | orlando wedding dj
Ready To Rock Your Event?