She taught you strength and love. She taught you how to make the BEST chicken noodle soup on the planet. She taught you how to wear red lipstick. She bought you that pair of jeans when your parents told you no because they couldn't afford it. You are fierce because of her.
She is your Grandma.
Now that you're getting married, you appreciate her love and support more than ever. If you are blessed enough to have your grandma or grandpa at your wedding, you should honor that!
You've probably already picked the songs for the father/daughter dance and the mother/son dance, but here are some of our favorite wedding songs for grandma (and grandpa!).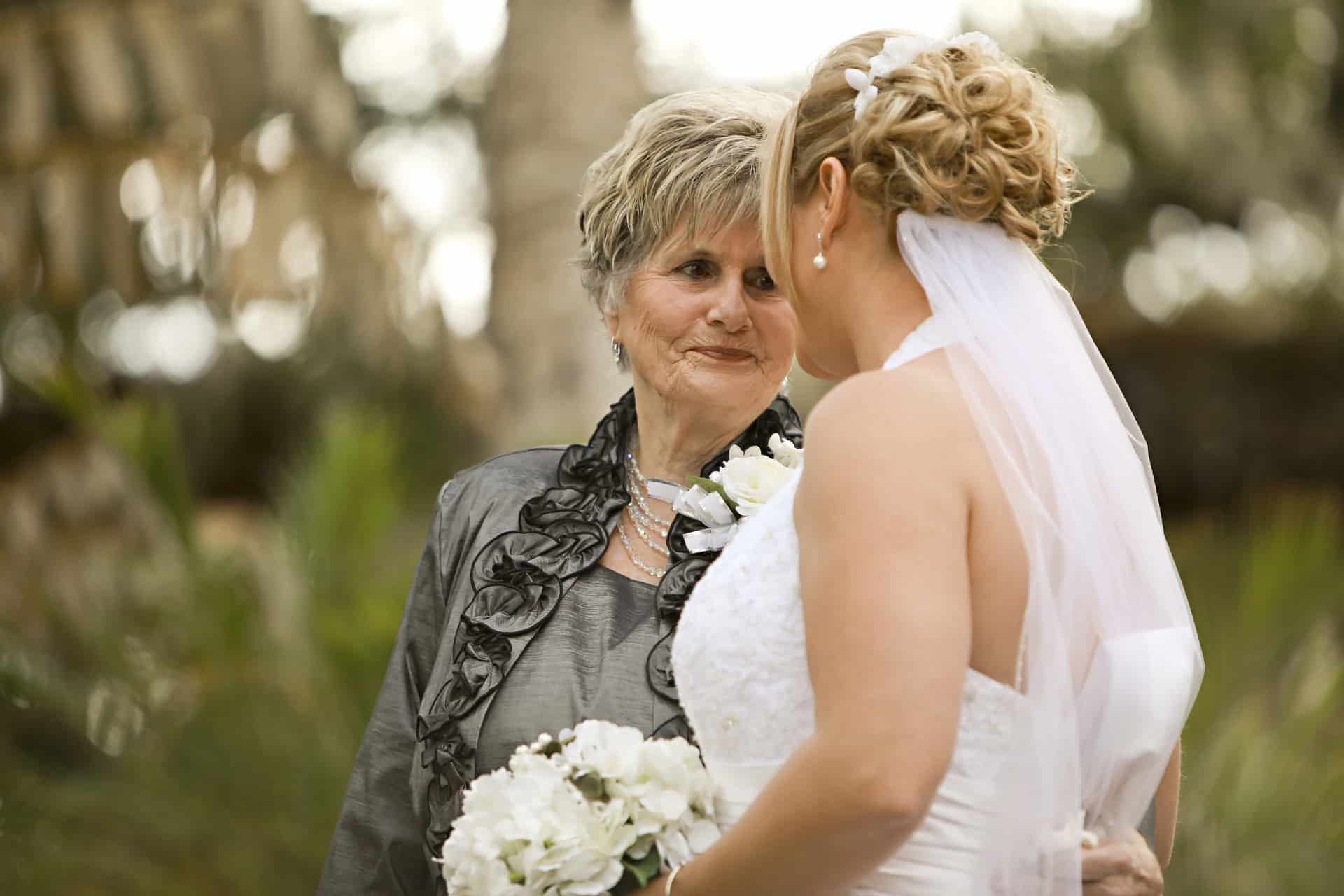 Wedding Songs for Grandma / Grandpa
Here's some wedding songs for grandma that'll have everyone searching for the Kleenex!
Because You Loved Me – Celine Dion
Top Tear-Jerker Line: "But I know this much is true / I was blessed because I was loved by you."
There You'll Be – Faith Hill
Top Tear-Jerker Line: "And I always will remember all the strength you gave to me / Your love made me make it through / Oh, I owe so much to you."
My Wish – Rascal Flatts
Top Tear-Jerker Line: "I hope you know somebody loves you / May all your dreams stay big."
I Hope You Dance – LeAnn Womack
Top Tear-Jerker Line: "Living might mean taking chances / but they're worth taking."
Tell You Something – Alicia Keys
Top Tear-Jerker Line: "Imagine there was no tomorrow / Imagine that I couldn't see your face / There'd be no limit to my sorrow."
Grandpa – Justin Moore
Top Tear-Jerker Line: "When I walk up on your front porch / It's like I'm still young."
Grandma's Garden – Zac Brown Band
Top Tear-Jerker Line: "She'd say 'I love to watch the seeds I've planted / Grow up into what they oughta be' / Oh, I thought she was talking about tomatoes / She was talking about her family."
Have I Told You Lately – Rod Stewart
Top Tear-Jerker Line: "And you fill my life with laughter / You can make it better."
I Just Called To Say I Love You – Stevie Wonder
Top Tear-Jerker Line: "Just called to say I love you / and I mean it from the bottom of my heart."
Water From Another Time – John McCutcheon
Top Tear-Jerker Line: "I waltz with Grandma in my dreams / My arms, my heart, my life entwined / With water from another time."
Song of the Violin – James Otto
Top Tear-Jerker Line: "So fear not the passing of days / 'Cause like the song of the violin / You only grow sweeter with age."
Grandma's Rocking Chair – Joel Hemphill
Top Tear-Jerker Line: "I learned about Jesus in my Grandma's rocking chair / And sometimes when I'm troubled, I wish that I were there."
Forever Young – Rod Stewart
Top Tear-Jerker Line: "May you always know the truth / And see the lights surrounding you."
You Raise Me Up – Josh Groban
Top Tear-Jerker Line: "I am strong when I am on your shoulders / You raise me up to more than I can be."
What a Wonderful World – Louis Armstrong
Top Tear-Jerker Line: "I hear babies crying, I watch them grow / They'll learn much more than I'll never know."
In My Life – The Beatles
Top Tear-Jerker Line: "But of all these friends and lovers / There is no one compares with you."
Do I Make You Proud – Taylor Hicks
Top Tear-Jerker Line: "Because of you / I am standing tall."
Somewhere Over the Rainbow – Israel "IZ" Kamakawiwoʻole
Top Tear-Jerker Line: "Somewhere over the rainbow / Bluebirds fly / And the dreams that you dream of / Dreams really do come true."
Your Song – Elton John
Top Tear-Jerker Line: "I hope you don't mind / That I put down in words / How wonderful life is / Now you're in the world."
Share A Special Moment
These wedding songs for grandma are sure to let her know just how special she is and how much she has meant to you.
Dedicate a song to her during dinner or have a special dance after the traditional "mother/son" dance. If you're tech savvy, you can even prepare a slideshow of your favorite moments together. (Nothing gets the tears flowing like a touching video!)
Do you have any other suggestions for us to add to the list? Did you have a grandmother dance at your wedding? Let us know in the comments!
get more music | 200+ Wedding Song Suggestions
get inspiration | pinterest.com/ourdjrocks
get social | facebook.com/ourdjrocks
get in contact | orlando wedding dj