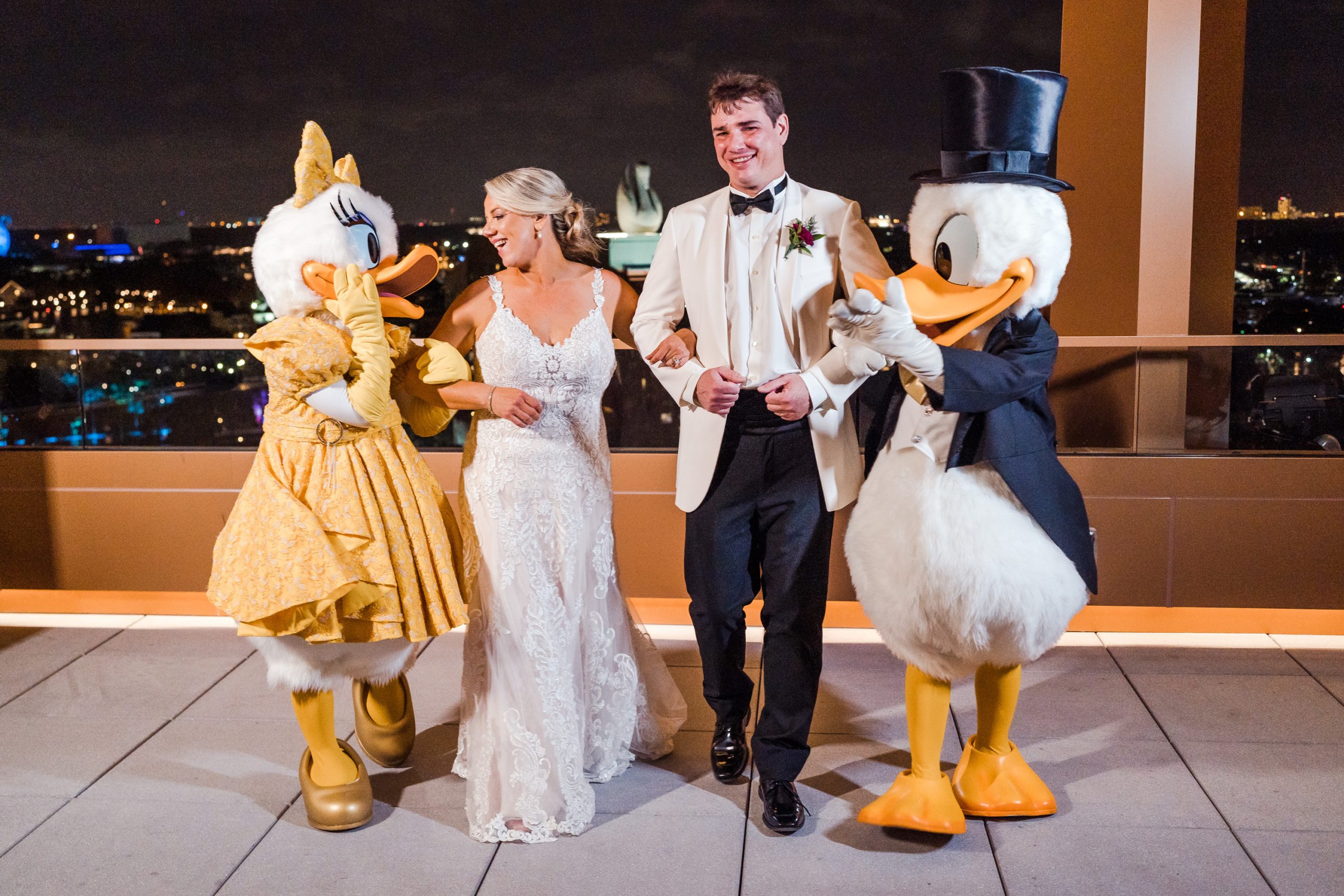 Disney-Themed Wedding: A Magical Night with Daisy and Donald
When Max and JJ tied the knot at the Walt Disney World Swan and Dolphin Hotel, they knew they wanted their special day to be nothing short of magical. And what's more magical than having Disney's beloved characters, Daisy and Donald, join the celebration?
The couple's wedding timeline was packed with energy, starting with the arrival at the Vue Ballroom. The reception began with the introduction of the wedding party, set to Bette Midler's "Friends." The bride and groom made their grand entrance to the tune of "Prince Ali" from Aladdin, followed by a "Photo Blitz" at the wedding party table set to the Batman theme from the 1966 TV show.
Guests enjoyed a plated dinner of "Be Our Guest" to start, followed by classic crooners, Disney tunes, and even songs from popular movies like Hamilton and Encanto. After dinner, the couple shared their first dance to "Dancing in the Moonlight" by King Harvest. All guests were invited to join them on the dance floor after a choreographed dance.
One of the highlights of the evening was the arrival of Daisy and Donald. They danced with the couple and guests to several Disney favorites, including "Ducks Dance Too" and "Shake Your Tailfeathers" from the Cheetah Girls.
To keep the party going, the couple had specific genres of music lined up, starting with throwbacks from Jock Jams and skating rink music, followed by '90s pop from Britney Spears, Spice Girls, and boy bands. Later in the night, the music shifted to club hits from Usher, Ludacris, and others.
The couple also shared their list of "must-play" songs, which included "Livin' on a Prayer" and "I Want It That Way" by the Backstreet Boys, as well as hits from Lizzo, Taylor Swift, and more.
The vendors who helped make the night unforgettable included event coordinator Kaitlyn Connors from Just Marry!, photographer and videographer Captured by Elle, ceremony musician Aloha Erica, makeup artist Darcy MM, photo booth company Hearts and Souls, and florist Design of the Times. Of course, we can't forget the real stars of the show: Daisy and Donald, played by Sasha Leykin.
Max and Jennifer's Disney-themed wedding was truly a night to remember, filled with love, laughter, and a touch of magic. Congratulations to the happy couple on their happily ever after!
See more images on PartySlate!
Jennifer and Max's Wedding Vendors
Venue: Walt Disney World's Swan and Dolphin Resort
Wedding Planner: Just Marry!
Florist: Design of the Times
Photography & Videography: Captured by Elle
Ceremony Musician: Aloha Erica
DJ: Our DJ Rocks
Makeup Artist: Darcy MM
Photo Booth: Hearts and Souls Event Management
Ready To Rock Your Event?