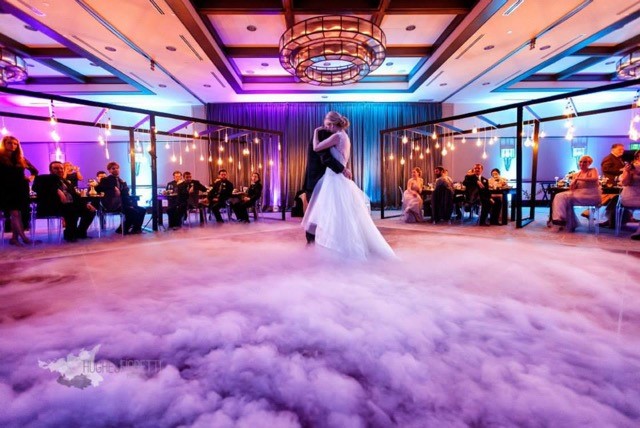 Orlando Wedding Planner – Vendors Who Rock – Meet Tickled Pink Brides
Wedding Pros That Rock
Meet Orlando Wedding Planner – Tickled Pink Brides
Today we are getting to know Brittany of Tickled Pink Brides.  Brittany has been in the business for 11 years and never ceases to amaze us!  With 3 little kids at home + her own wedding planning and design company, she is simply rocking it in life.  But what makes this dog-loving dancing queen so great is her taste in music and her heart for marriage!  Oh—and she plan a damn good wedding.  Get to know one of our favorite Orlando-based wedding vendors…


What do you do and how long have you been in the business? 

I'm the owner of Tickled Pink Brides, an Orlando-based wedding planning and design company. I've had my business for almost 7 years (!!) and have been in the wedding industry for 11.


What is your favorite thing about your job?

I always wanted a project-based job so wedding planning is a great fit. I love that each couple and event is unique with different style and priorities. We build relationships with our couples and really enjoy the time we spend with them, and to see all of the hard work and creativity culminate on the wedding day is a fantastic feeling.


Breakfast or Dinner?

Dinner!


If you could travel anywhere where would you go? 

This is impossible for me to only choose one place and I have a major travel itch going on. Right now I have my sights set on Sayulita, Mexico.


Cats or Dogs?

Dogs.


Where do you see yourself in 5 years? 10 years? 

Even busier than I am now with three small kids! This is scary to put out there to the world, but I would love to adopt a fourth child at some point. I can see that happening by the 5 year mark. In 10 years I'll be looking at colleges with our oldest daughter (which just sounds absolutely insane to me). All that time, I imagine we'll be living in the house we're currently building and hopefully boating on the weekends.


Favorite item in your closet?

Oh man. Tough one. I don't get to wear them much but I think I'd say my multi-colored sparkly pumps.


Favorite song right now?  Of all time? 

I can't even. I'm giving myself the right to choose three. Glycerine by Bush (featuring Gwen Stefani…seriously, look it up!), Oh Come All Ye Faithful sung by Celine Dion (yep, I'm all over the place), and Whitesnake's Here I Go Again On My Own. And my mind has gone blank on the "right now" song because I hardly listen to any current music! Kristin, please send me a list of current music so I can be in the know.


Wallflower or dancing queen?

Dancing Queen.


If you could give advice to your former self what would it be?

Don't let fear keep you from trying something new. Don't get me wrong, I am so very happily rooted in my life and I would not trade one bit of it for the world. However I do think that through high school and college there were experiences and goals I was interested in but couldn't imagine actually doing. What if I fail? What if it's hard?  What if I miss out on something else? I think those questions and inner self doubt often hold us back from life experiences. You just never know until you try, right?


Favorite place to eat or date night spot Orlando?


Favorite thing about living in Florida? 

To be honest I tend to complain a lot about our lack of real seasons, but it is pretty ideal that we can spend time outdoors basically every day all year long. I feel cooped up spending too much time inside and tend to get outside as much as possible.


What was your favorite course in college?

I majored in business and minored in religion. With no plans to use the religion minor for work, I just really loved the classes and have always been interested in studying religions of the world. One of my favorite classes was Religion In The South. There was a lot of reading, writing and discussion and I was fascinated learning all the twists on Christianity especially, as it has mingled with regional culture over the years.


If you could have coffee with anyone in the world who would it be? 

Am I so lame because I can't think of anyone better than my husband to hang out and chat with? I think not. He's seriously my favorite person in the world and my very best friend. Unless I can grab a cold brew with coconut milk with Mother Theresa, I'm picking my husband.


What is the best marriage advice you've ever received?

I don't have one piece of advice, but seeing my grandparent's 65+ year marriage all my life has been a great example to me. There is so much respect, gentleness, and selflessness in their marriage. No relationship is perfect but it's obvious when couples invest in and cherish their relationship.


Where can we find you online?

Insta: https://www.instagram.com/bstarsobering/

FB: https://www.facebook.com/tickledpinkbrides/

web: http://www.tickledpinkbrides.com

Wedding Pros Who Rock: The WPWR series aims to feature talented wedding professionals in the Greater Orlando area, who rock in business and in life.  Wedding Pros who Rock are wedding vendors who we love working with and we'd love you to get to know too!  Do you know a wedding pro who rocks? Or maybe you are one yourself?! Email us to let us know! 
Ready To Rock Your Event?