The Great Wedding Race
One of our favorite local florists, Bluegrass Chic, hosted a Kentucky Derby-themed event called The Great Wedding Race! They brought in wedding vendors from all different areas to come see their warehouse and also enjoy super fun and creative activity stations. 
In true Kentucky form, we were greeted with a signature bourbon cocktail. From there, vendors were guided through a networking area and into the warehouse to meet with other professionals and learn all the tips and tricks they specialize in, creating a fun and educational event.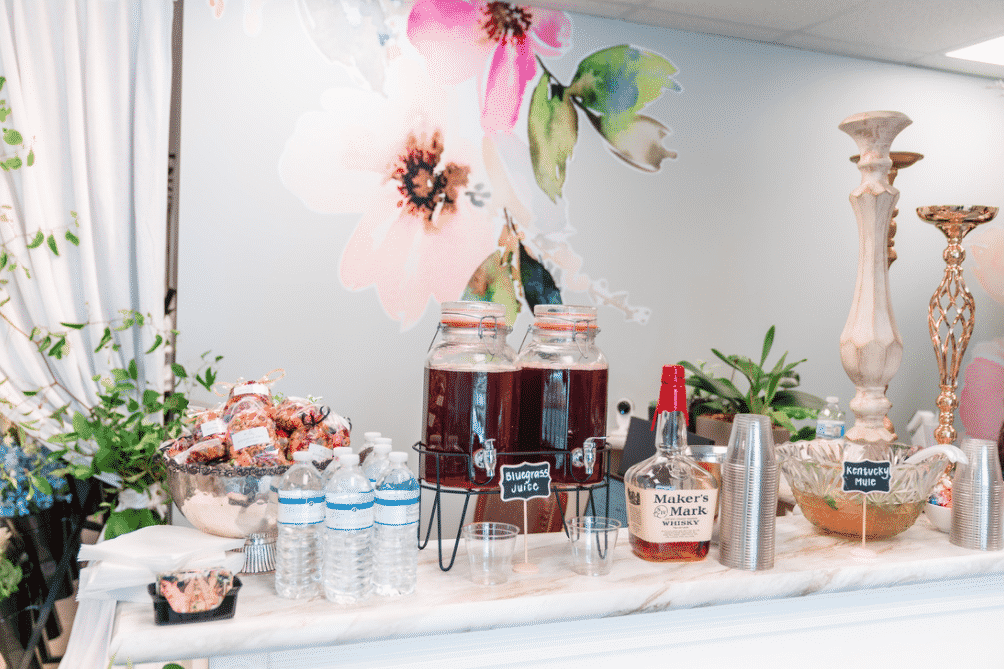 With a drink in hand, guests started at Two Peas Paper Co. for a hand-painted portrait done on-site! This amazing duo created some super unique artwork right before our eyes.
While our portraits were finished, we moved on to the lovely ladies of Solutions Bridal, who taught us how to bustle different kinds of dresses—an absolute must-know item in any wedding vendor's repertoire!
Next on the tour was Laura Reynolds Artistry. Her noble fingers showed us the easiest way to pin up a bride's hair if it falls, using all different hair types for examples! She also gave makeup tips and touch-ups as well, something any vendor should know for themselves, too!
Our hosts also had a couple tips and tricks up their sleeves; we learned how to create and fix a broken corsage as well as how to pin on a boutonniere. They also shared some other floral secrets with us to make any vendor capable of handling a couple's needs come wedding day!
DJ Jennie with Our DJ Rocks was also there, making all the announcements to keep the flow moving, as well as providing some head-bopping music and uplighting for the ambiance!
The last station was so cute, creative, and a perfect fit for a florist! Each guest got to select and re-pot a succulent to keep. Alongside our hand-painted faceless portraits, some emergency wedding planning bags from Wedding Planner Lora Ritzie Wardman, and a beautiful canvas tote, each guest felt so special and welcomed.
This was such an amazing event, and we're so glad to have such an amazing group of local vendors to partner with and work together to make sure every event and wedding that we do together is a huge success!
Photos: Captured by Elle Photography https://www.capturedbyelle.com/
Ready To Rock Your Event?