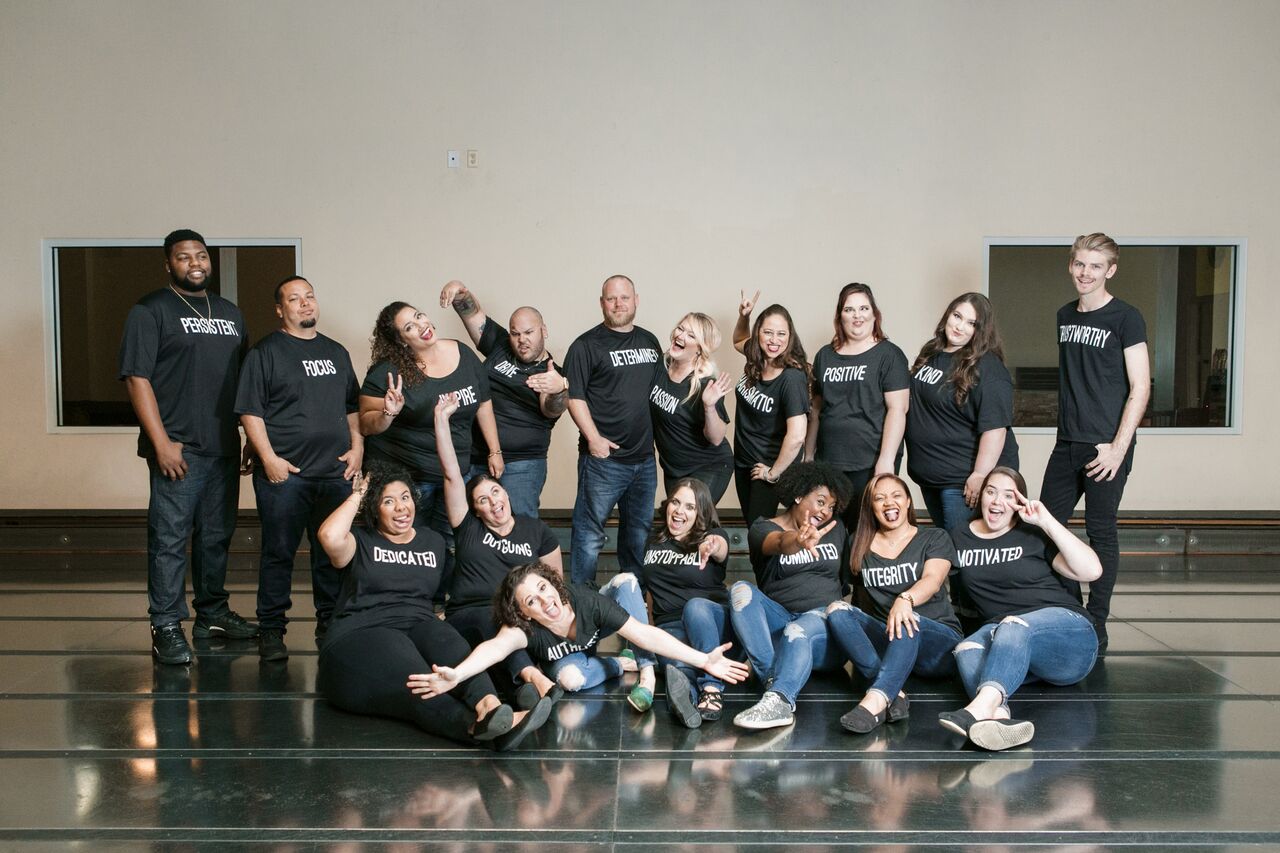 2018 Team Retreat
Every year, the teams from Our DJ Rocks and Photobooth Rocks come together for our annual team retreat and team building. This is one of the few times a year that all of us are in the same room at the same time. At most companies, you work with and see your team members every day. But because we DJ and rent photo booths for events all across Central Florida, it's rare that we're all together.
Our team building events give us the opportunity to update our team pictures and hang out as the family that we are, while also participating in a little "friendly" competition. And when I say friendly…of course I mean fierce!
All families have some sort of tradition, like playing football on Thanksgiving. In our family, we play a game called Whirlyball at our annual team retreat (think bumper cars meets lacrosse meets basketball). For the past two years, the operations team at Photobooth Rocks have been the champions. But not this year, Satan!
The ladies of Our DJ Rocks came with their game face and took the championship! The men were good sports, though, and we were able to all have lunch and catch up.
The reason we have this retreat—besides being able to see each other outside of work—is to promote our core values and give us a reminder of why we do what we do. We take the utmost pride in carrying out our values of creating moments for our clients all throughout the year, being reliable and committed, having high standards, growing with each other and our clients, and the most important, supporting each other through teamwork and having loyalty between us, our fellow vendors, and our clients.
It took us over a year to finalize our core values. We thought to ourselves: what are the characteristics we have and what behaviors are we going to do daily, weekly, and monthly that will help us get closer to our mission and vision? These core values will be so specific, nitty-gritty, and so descriptive, that it will leave little imagination as to who we are as individuals and how that combines to make a team.
Rocks Team Core Values
We Value

Integrity + Gratitude
We show good character when no one else is around.

We make wise decisions in our personal life and in business.

We exhibit honesty and we are our word.

We question actions inconsistent with our values.

We are thankful and we consistently show gratitude.
We Value

Positive Attitudes + Charisma
We fuel others with motivation.

We are genuinely a pleasure to be around.

We infuse positive energy wherever we go.

We take care of ourselves, because if you don't take care of yourself, you cannot take care of others.
We Value Unshakable

Commitment
We believe in building unbreakable bonds with friends, family, and coworkers.

Alone we can do so little, but together we can do so much.

Collaboration creates an environment for all to flourish.
We Value

Growth
We know that the path to success is massive determined action

. #Drive #Persistence

We always look for ways to make it easier to do business with us.

We set our standards high and we dream big. #BlueSky

We blow away goals.

We rise up as a team when things get tough.

Status quo is not how we roll.

#NoMediocre
We Value

Moments
We don't wait for them, we create them.

We live in the moment and sometimes for unplanned moments.

We have a love for life.

We look for ways to surprise and delight our clients.
For our tradition of team pictures this year, were inspired by Hailee Steinfeld's "Most Girls" music video. If you haven't seen it, you should get on that and go watch it! We thought, WHOA! Let's tie in all of our core values and and our individuality and wear a shirt that has a particular value that each team member represents exceptionally!
Thanks to Bumby Photography, we were able to capture the newest pictures of our DJ and Photobooth team, team shots, and action shots from Whirlyball. We also wanted to thank Brides Be Beautiful Hair and Makeup for making our DJs look super fly and ready to take on the world!