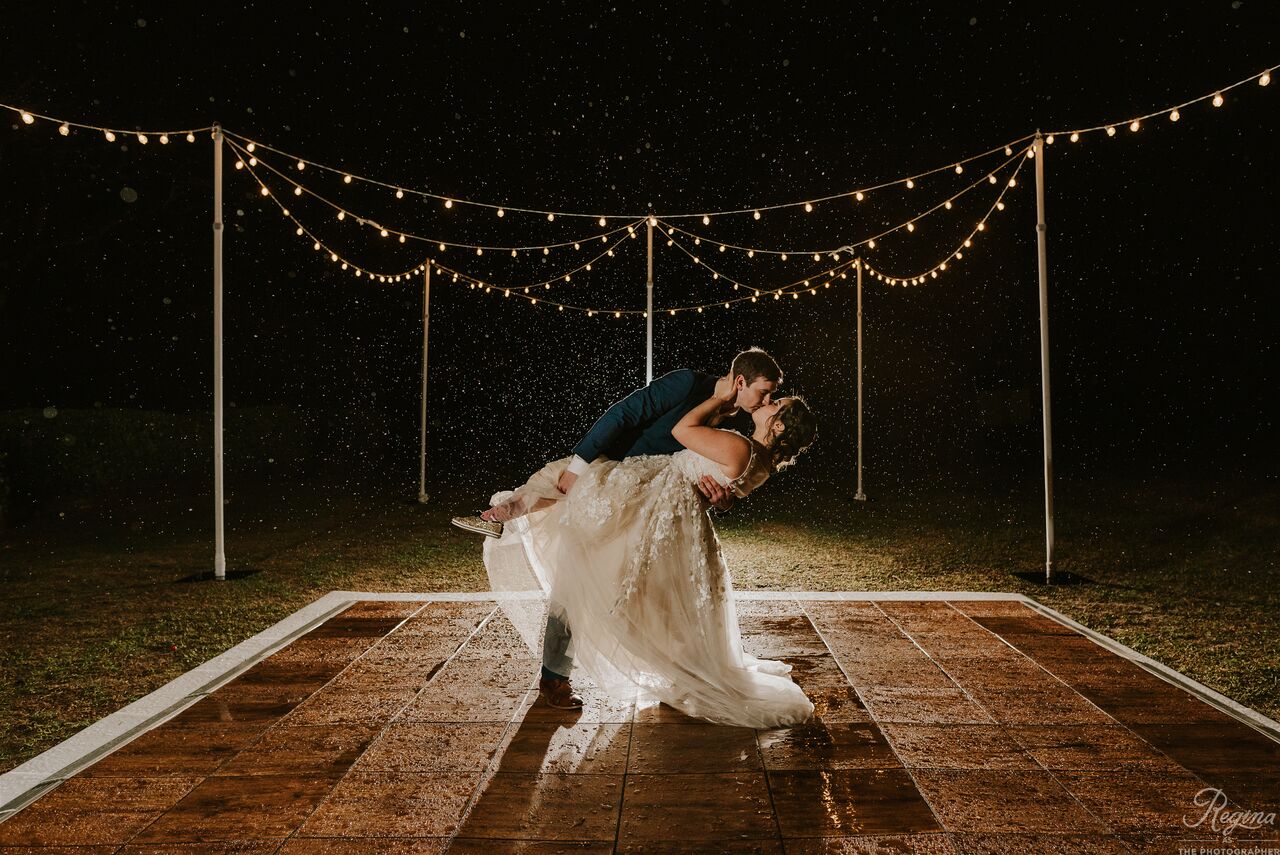 Real Events: Leila + Stephen's Mackay Gardens Wedding
Okay, you guys, I know I'm already married, but this wedding is #goals!!! From her sparkly shoes (hey, just like our DJs!), to the fun tropical bridesmaid dresses to the pinata, everything exuded fun and the type of style that Pinterest boards are made of. (Seriously, that pinata! What a great idea!)
But this wasn't just a big night for Leila and Stephen…we got to visit a new venue! Mackay Gardens was the perfect backdrop for these two to celebrate their love in a way that truly represented them to a T.
Find out what Leila and Stephen had to say about their big day.
Was there a memory from your wedding that sticks out more than others? Maybe romantic, maybe fun dance-floor related?
A memory that sticks out the most is all of the family and friends that traveled from out of state, town, and even the country to be a part of our wedding day. In my Dad's speech, he listed all of the places people traveled to come join us and I was blown away hearing it out loud. That was so special to me.
And of course, our vows. Everything on a wedding day is kind of rushed and when I was finally up there, I gave Stephen a huge hug which I'm sure you saw in our pictures and then I couldn't stop staring into his eyes and soaking it all up! That is burned into my mind and my favorite part of the day.
What is one piece of advice that you would give couples planning their wedding?
As a FLORIDA bride, my biggest piece of advice is to get an umbrella and don't worry about rain. It's water, you'll likely have a little bit of rain on your wedding day, so don't worry about it and don't let it stress you out too much because it can be dried away by your MOH and planners (who rock, by the way!) with towels and hair dryers, haha! It is good luck 😉
If you could change one thing about your wedding, what would it be?
I wouldn't have worried about the small things and would have enjoyed more time greeting guests. I don't think I was able to say hello to everyone and I wish I had! People say to sit down and enjoy dinner and let them come to you, but I would probably have eaten a little and then made rounds to introduce my new husband to friends and family. But wedding days are crazy and your brain isn't all there! Haha.
Why did you choose Our DJ Rocks for your wedding entertainment?
BECAUSE THEY'RE THE BEST. DUH. Really, I didn't have any other choice but to hire ODR for our wedding day, especially after working with the girls at several weddings as a fellow vendor. Professionalism, trust, and they know how to get the party going! Thanks!!! I loved having Gaby as our DJ and she did a fabulous job keeping guests dancing even when I wasn't in the room most of the night.
Leila + Stephen's Vendors
Ready To Rock Your Event?