People tend to group them together, but club DJs and wedding DJs have about as much in common as a cardiologist and a brain surgeon.
But what does a DJ do at a wedding that's different from working at a club? LOTS.
Where a club DJ can simply show up and start spinning tunes, a wedding DJ's focus is on creating an awesome experience for (ultimately) one couple. Because they play such a huge role in your reception, it's important to hire an experienced wedding DJ who's capable of creating the type of experience you're looking for.
Wedding DJs do more than just play music. And much of what they do takes place before they even show up at your venue.
Here's all the things—from start to finish—that a wedding DJ does to make your day everything you've always dreamed.
1. Song List Planning
Picking the songs to play during your wedding reception is harder than it looks.
You know what type of music you and your friends like to dance to, but how do you fit your mom's favorite song and Ginuwine's "Pony" into the same song list?
The most professional wedding DJs often have some type of planning tool to make your special day exactly the way you want it. At Our DJ Rocks, our wedding song planner lets you choose which songs you want played and which ones you don't. (Sick of The Chicken Dance? We don't blame you.)
By learning your dance music preferences, we get a better idea of what genres you like so we can throw in some surprises!
We'll also help you answer all the important questions, such as:
Do you want any song dedications?
Will there be a blessing?
How many people are giving a toast?
Do you want people to bring the centerpieces home?
What types of music do your parents like?
Should your DJ take requests?
Your wedding day hasn't even arrived and your DJ has already started working!
2. Staying On Schedule
Whether you're working with a wedding planner or not, it's important to have a timeline for your wedding ceremony and the reception. This is where your wedding DJ proves invaluable!
Once we finalize all the details of your wedding day with you, we will create a wedding day timeline that to keep everyone (including your other vendors) on schedule. In addition to your ceremony start and end time, your timeline will also list any special song dedications, toasts, or blessings you'd like to include.
Once the timeline is set, we stick to it!
We typically arrive about 1-2 hours prior to our start time so that everything is set and ready to go when it's "I Do" time. With Our DJ Rocks, there won't be any scrambling to complete the sound check at the last possible minute. Your entire day will run like a well-oiled machine.
(Click here for a sample timeline from a real wedding.)
3. Announcements
A good wedding DJ is responsible for way more than playing music. They also act as your MC.
Remember that awesome timeline we talked about earlier? Part of sticking to that timeline means knowing when to pick up the mic and make those all-important announcements (like introducing you for the first time as a married couple).
Of course, not every wedding DJ has experience as an MC. When you're hiring a DJ, make sure you consider their personality as much as their experience. As your MC, they'll be setting the tone for the whole night!
4. Technical Assistance
For anyone considering DJ-ing their own wedding, we'd like to ask you, "How are your guests going to hear the officiant during the ceremony? Have you ever used a sound board? Do you know how to troubleshoot an iPad setup that just won't work?"
It takes a lot of specialized equipment and technical know-how to make sure the vows, toasts, and music all sound good from beginning to end. What does a DJ do if not make it all look (and sound) utterly seamless?
5. Vibe Check
Setting the right vibe and atmosphere is what sets wedding DJs apart from other types of DJs.
Unlike a nightclub, which is usually a younger crowd, your wedding guests will consist of family and friends from all generations and walks of life. Finding ways of keeping all these people dancing can be easier said than done.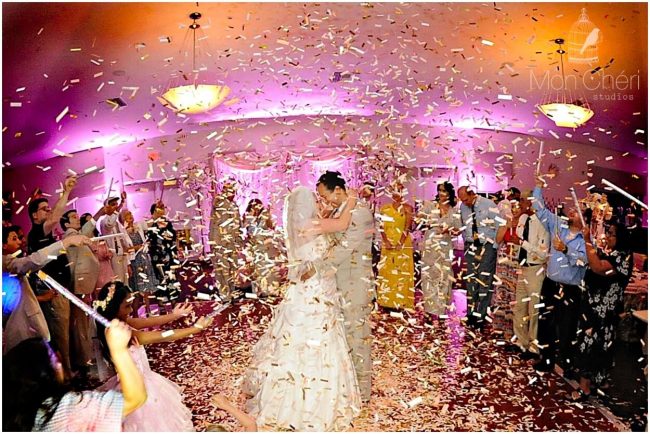 But for wedding DJs, it's no sweat!
I don't know about you, but I can hit "Shuffle" on a playlist of all my favorite songs and still end up pressing "Skip" multiple times! Being a wedding DJ requires the ability to read the vibe of the room and create a playlist on the fly that keeps everyone on the dance floor.
6. That Extra Bit of Sparkle….
"What does a DJ do that I couldn't do myself?"
All of the planning, scheduling, hosting, technical work, and room reading is nothing without the final piece of the puzzle: professionalism.
What sets a professional wedding DJ apart from a layperson comes down to more than a nice set of speakers. Only a pro can confidently handle transitions between songs, announce the cake cutting, and figure out which '70's song will get Grandma off her feet.
At Our DJ Rocks, we fully train each of our DJs at our own DJ University and we keep up our education by attending conferences, seminars, and private tutorials throughout the year. We add a fun, yet professional vibe to any event (not just weddings!)