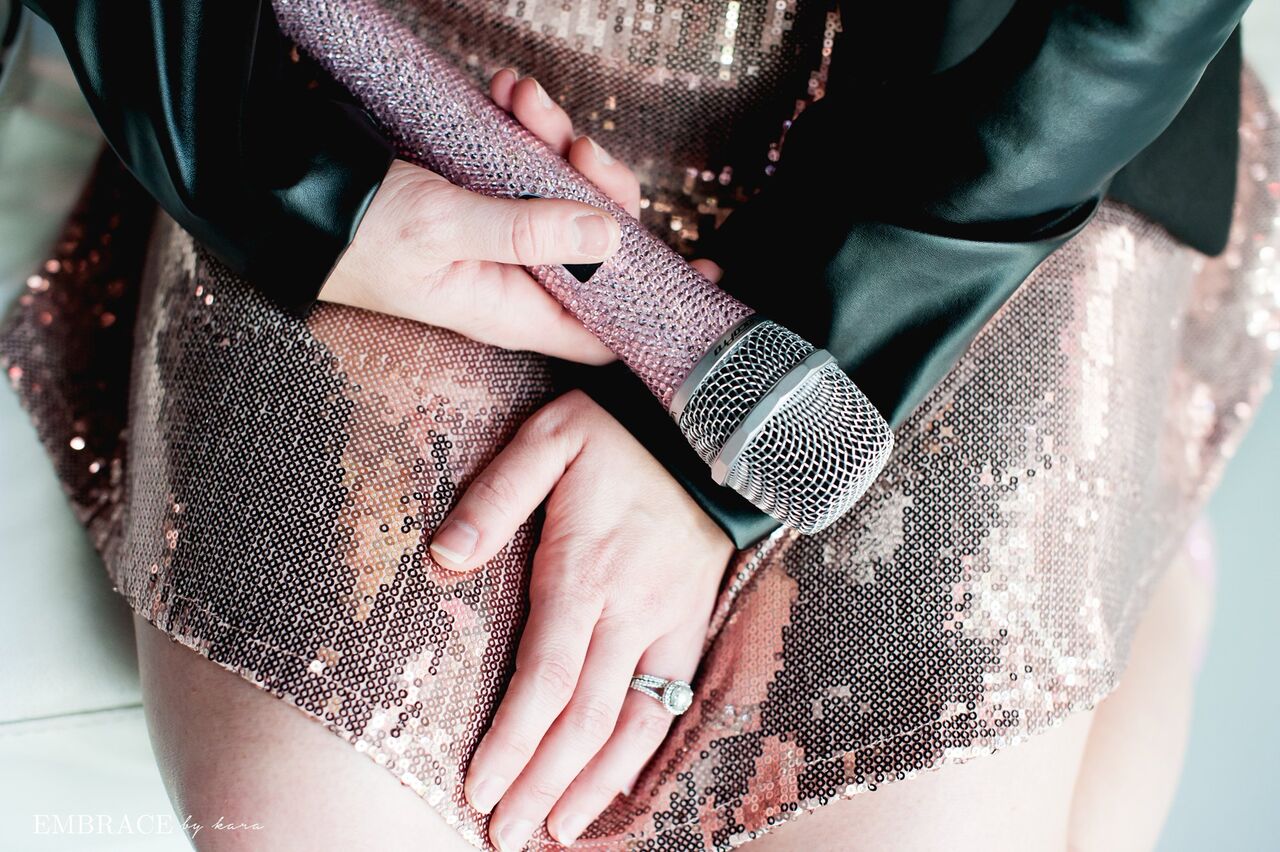 Wedding Band or DJ? (10 Reasons to Hire a DJ)
You have a long list of decisions to make when you're planning a wedding.
Chicken or seafood? Buffet or plated? Church or outdoor ceremony? Wedding band or DJ?
Your choice of wedding music is incredibly important for setting the tone for your ceremony and reception. (And if you disagree with me, just think for a minute about how you'd feel if no one was dancing.)
While wedding bands might be tempting, there are several reasons why a DJ might be the best option for your wedding.
1. The Party Doesn't Stop
As any musician can tell you, performing is tough work, which means band members will have to take a few breaks during your reception to eat, use the bathroom, or just take a breather.
During those breaks, they'll either play pre-recorded music or stop playing entirely (usually just when the party gets going!).
A DJ, on the other hand, doesn't throw off anyone's groove; the music keeps playing all night! In most cases, no one even notices if the DJ needs to step away from the booth for a few minutes.
Your wedding is a once-in-a-lifetime event. A DJ will make sure you (and your guests) get the most out of every second.
2. More Variety
Most bands specialize in a certain genre—jazz, hard rock, Motown—but most couples wouldn't be able to narrow their "must play" list down to a single music style.
Sure, you can always ask if the band could play both "Achy Breaky Heart" and "The Cupid Shuffle," but even if the answer is "yes," they'll put on the same track a DJ would. And if you have an obscure request (you always dreamed of walking down the aisle to the wedding song from The Muppets Take Manhattan, for instance), a band may not be able to accommodate it at all.
A DJ can play just about anything.
From Perry Como to Post Malone, they got you covered. And if they don't have it in their playlist, it'll take them seconds to get it. No sheet music necessary.
3. Go With the Flow
Most bands talk to you beforehand about what songs you want played, which ones you can't stand, and then they create and rehearse a set playlist.
But, while it's nice to know they have their set memorized, it can be difficult to transition to a new tune if the guests just aren't feeling a certain song.
Because DJs don't have to focus on hitting the right notes, they can focus on the room—who's dancing, who isn't, when to pick up the tempo, or when to switch to a new song entirely. (And you know the switch will be seamless, too, because #djing.)
4. Double Duty
Bands specialize in playing music; DJs specialize in making weddings happen.
A wedding is an event with a lot of moving parts. You have to coordinate the cocktail hour, food service, first dance, and dancing, without forgetting to make time for the garter toss, cake cutting, and any other special moments you want to announce.
Don't "wing it" on your wedding day!
The right DJ can also act as your MC for the night, keeping the everything moving along and sticking to the timeline. A DJ/MC will work closely with your wedding planner, day-of coordinator, or venue contact to make sure everything happens right on schedule, from the vows to the sparkler sendoff.
That bandleader might play an awesome lead guitar, but does he guarantee a smoothly running show?
5. Cost
Cost is often one of the main considerations when deciding between a wedding band or a DJ.
And DJs win, hands down.
The average wedding band costs $4,000—more than twice the cost of hiring a DJ for a Saturday wedding. Fewer people, less equipment, and less physical exhaustion (you get winded playing a trumpet!) means that DJs can throw a winning party for less money.
Feel free to put the savings toward that designer dress.
6. More Room to Dance
"I wish this dance floor were a little smaller…" said NO ONE, EVER.
And the truth is: bands take up a lot of room. The drum kit alone has a larger footprint than a dining room table, and you also have to factor in the cushion of space between each band member.
If you're working with limited space at your wedding venue, a DJ will be able to set up shop in an out-of-the-way corner, leaving plenty of room for shaking your groove thang.
7. Volume Control
DJs have more control over the volume. In fact, your venue might even have noise restrictions that prohibit hiring a wedding band.
8. More Familiarity
Even the best band will only be playing covers. Sometimes, you and your friends just want to jam to the original. You know exactly how the melody goes, what key it's played in, and when the rap bit starts in the middle. This is your jam.
If the wedding band is playing outside of their preferred genre or doesn't have the same instruments as the original artist, it'll be a poor imitation.
No worries about whether the band's singer can hit Mariah's high note or whether you'll still get that tear in your eye during the first dance. Some moments you just don't mess with.
9. More Flexibility
Whether you choose a wedding band or DJ, the music sets the whole tone of your reception. So what happens in an emergency?
It can be difficult to replace a musician if the flu races through a wedding band, but if your DJ gets sick or has an emergency, someone else can easily step in.
At Our DJ Rocks, we have an entire crew ready to step in if need be.
10. Focus is on YOU
There's no doubt that bands have a presence. It's the difference between a nightclub and a live concert.
But at your wedding, you want the focus to be on YOU.
Bands are great at performing, and that's what they're used to. But a wedding DJ doesn't just know how to play great music, they know how to keep the two of you at the center of the entire night.
This is your wedding; don't let anyone steal the limelight.
Wedding Music Tips
Whether you end up with a wedding band or a DJ, you still want to have the time of your life. Here are a few wedding music tips to make that happen.
If you want the "live music" feel on a DJ budget, think about hiring a musician to play for just the ceremony. A guitarist or string quartet at the ceremony can set the tone you want without breaking the budget.
Read reviews, get recommendations, watch videos (try their social media accounts!), or see them live so you know how they perform.
Ask what the setup looks like. The best DJs will hide the sound equipment so it doesn't mess up the carefully curated look of your reception.
Get everything in writing in a contract and make sure all of the information is correct before you sign.
Your "Do Not Play" list is just as important as your "Must Play" List. Nothing kills your mood faster than hearing your least favorite song at top volume.
The Our DJ Rocks Difference
We think a wedding DJ is the way to go (why do you think we're in this business?), but not all DJs are created equal.
At Our DJ Rocks, we're one of only a few all-female DJ teams in the country…something we take great pride in! All of our DJs LOVE music and LOVE weddings and we'll pick your brain before the event to build the perfect playlist. Our tastes range from country to rap (and everything in between!).
Plus, our reviews say it all: "Our DJ Rocks!"
Need more than just a DJ? We gotchu. We also offer photo booth rentals, lighting packages, and we can add some special magic to your reception. Ask us how you can have your first dance on a cloud or in the snow.